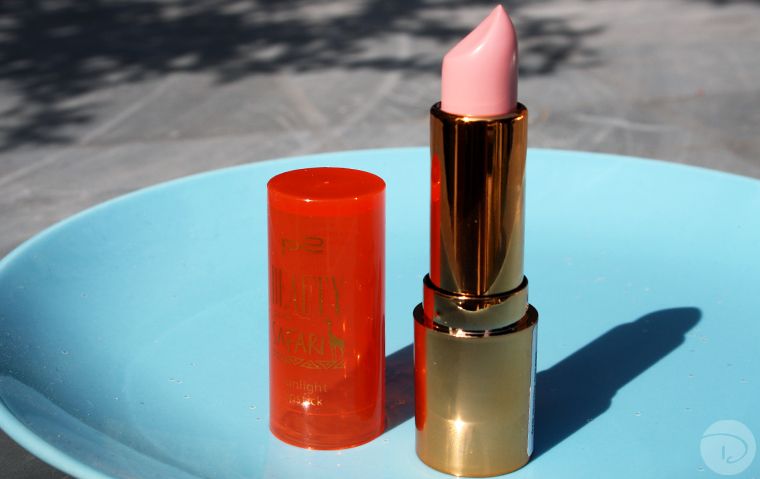 Stormy Mirage / Illusion
One of my biggest flaws is that I often grab and run when I buy lipsticks, no need to swatch just look and pay. I already knew that I wanted a lipstick from Beauty goes Safari the new limited edition from P2. There are three shades in the collection coral, red and the one I picked a light pink.
You can see all colors here.
I first had the idea that Stormy mirage [or illusions as the shade is listed on the site] was a lavender shade but it is a very light pink.
Beauty goes Safari has a very nice design, it does not scream safari to me but it screams summer. The gold with orange is unique but not ugly. It does stand out in my lipstick collection, what I think is a good thing. I payed €3.75 for stormy mirage, what makes it a budget product. I do think that P2 is one of those budget brands that looks more expensive then it is, they almost never disappoint
Above you can see a swatch, left I layered and right is one swipe. The pigment is amazing. The P2 lipstick is very opaque and the color I do not hate. Or should I say I do not hate the color on my arm swatched. Because if you look below you will see why I do not wear this lipstick. Applying this was a struggle because it was not creamy, it also feels like a thick layer even when you apply a tiny amount. Also it is not flattering for your lips it looks like you pasted something on that is not lipstick. And I do have to admit the picture kind of looks decent but I searched online and I found a lot of lips where you could see how it goes into the lines and makes your chapped lips look more obvious. I think my large layer of experimental make-up kind of saved this lipstick in the look you see.
I am kind of sad that I got this lipstick, normally P2 does not disappoint but this product gets a two thumbs down. I know you can do better P2! And because it is limited edition I would just advice to skip these lipsticks and go for the regular collection.