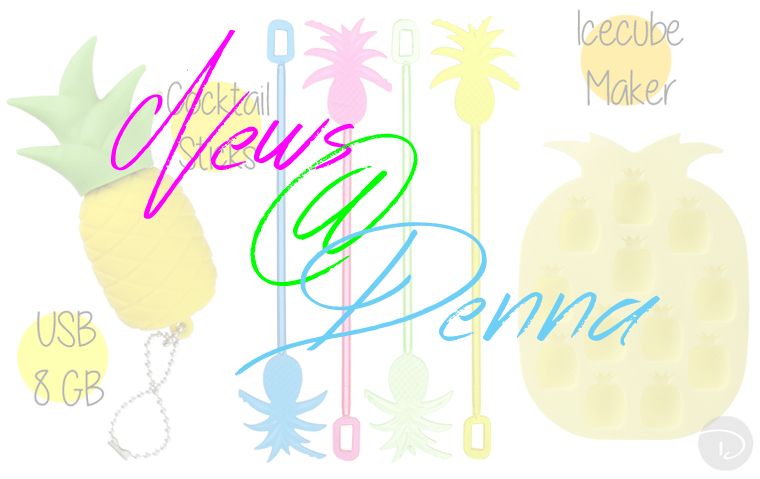 April #1
Recently I was added to some press lists, and because at the moment I feel that I get enough emails with information I decided to share it in a new kind of article. I have been dabbling with how I want to present the news to you all because I personally hate blog posts with just boring old images and information. I wanted to have playful collages, some animated and some not animated. Also I decided not to put in everything that is new, but only the things that I am excited about or what catches my interest. It is just a nice fun article with a lot of new things! [Also I am not sure about News@Denna, does it sound okay?]
Pineapple theme at HEMA
Hema has a cute pineapple theme for summer and spring. They have a load of fun things in pineapple print/theme. It goes from socks to underwear and even candles. I decided to show you my favorite things from the collection that I personally feel I need to buy. My little Hema wishlist is only €11 and the products are really cheap but cute. I think a pineapple USB drive is a must have to make my schooldays brighter, Icecube trays are always neat and the cocktail sticks I just felt are needed.
Pineapple Icecube maker - 1 euro
Pineapple 8GB USB - 8 euro
Pineapples Cocktail sticks - 2 euro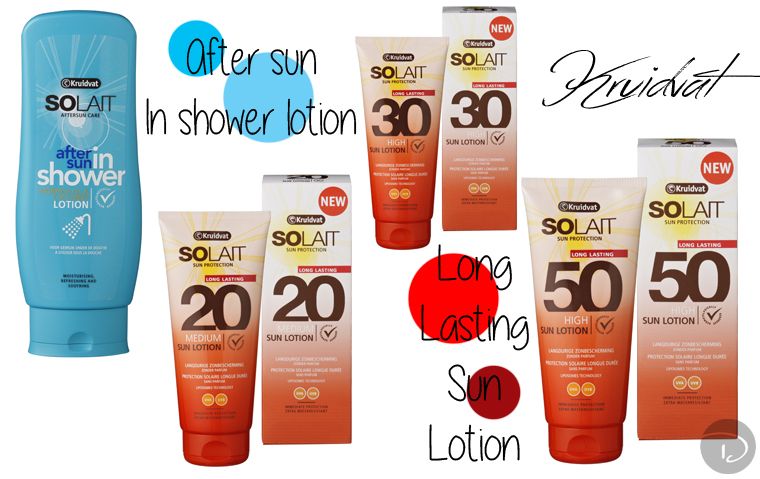 Kruidvat - Sun protect & After sun
Kruidvat Solait Long Lasting Sun lotion SPF20 200ml € 8,99
Kruidvat Solait Long Lasting Sun lotion SPF30 200ml € 9,99
Kruidvat Solait Long Lasting Sun lotion SPF50 200ml € 13,99
Kruidvat Solait In-Shower Aftersun 250ml € 5,99
The new After Sun in Shower lotion is something that caught my eye, it helps to calm your skin after being in the sun. It has cucumber extract and Miracletree oil that will keep your skin soft and calm after laying in the sun. Also I am not a big after sun person, I hate the feel of aftersun on my hands and I think that a in shower product is something that I would use faster then a regular aftersun.
Also not pictured they have a hair protection spray with UV filter, it helps to protect against dehydration and discoloration. The Kruidvat Solait Hair Protection Spray is 150ml for € 3,89.
Bags and sunglasses at HEMA
I am a big sunglasses girl and also cute bags tickle my fancy. Hema has a nice collection of
sunglasses
ranging from €4.95 to €9.95 and
bags
from €10.00 to €19.95. I always keep a spare pair of sunglasses in my bag in case I forget my prescription sunglasses, I tend to go for cheap sunglasses and I do think that Hema has a nice collection. There is a black pair that is so large that my face wants to wear it. Also the bags are even more cute, I am looking for a cute summer bag and I love the ones with a contrasting handle. Great for shopping but also for school.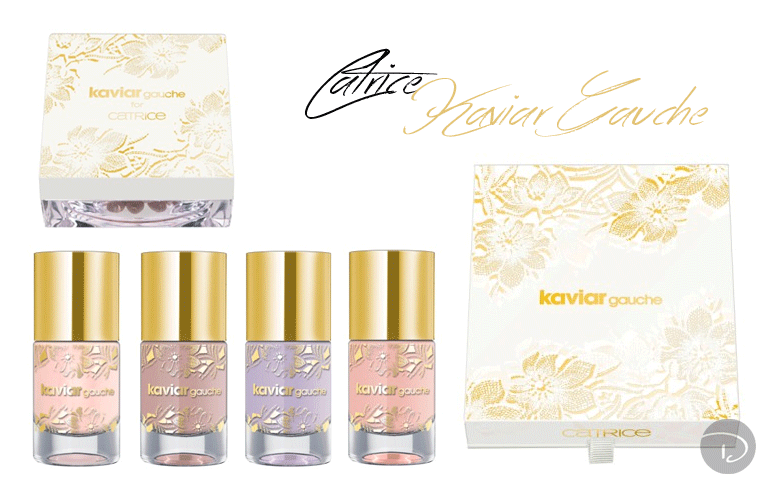 Catrice Kaviar Gauche
For June and Juli Catrice is going bohemian chic and bridal with their new Kaviar Gauche limited edition. The package is a combination of white and gold and I personally feel that you will love it or hate it there is no in between. I think some people will find this package tacky and I personally feel that the nail polishes do look really tacky and would have looked better with a white cap. But I do really like the look of the palette it reminds me of my
limited edition arts collection
palette,The colors are very light and natural, I love that the added a lilac for a pop of color and I am really looking forward to the pigmentation of this one. The pears in the cute package are blurring pearls and are said to give you a flawless complexion, not sure how this one would work but my interested is peaked.

Kaviar Gauche for CATRICE – Blurring Powder Pearls - € 4,59
Kaviar Gauche for CATRICE – Gilding Eye and Face Palette - € 7,99
Kaviar Gauche for CATRICE – Gentle Lip Gloss [not pictured] - € 3,59
Kaviar Gauche for CATRICE – Nail Lacquer - € 2,99
What are you looking most forward to, normally I have to say make-up but I am really set on owning a Hema shopperstyle bag at the moment.