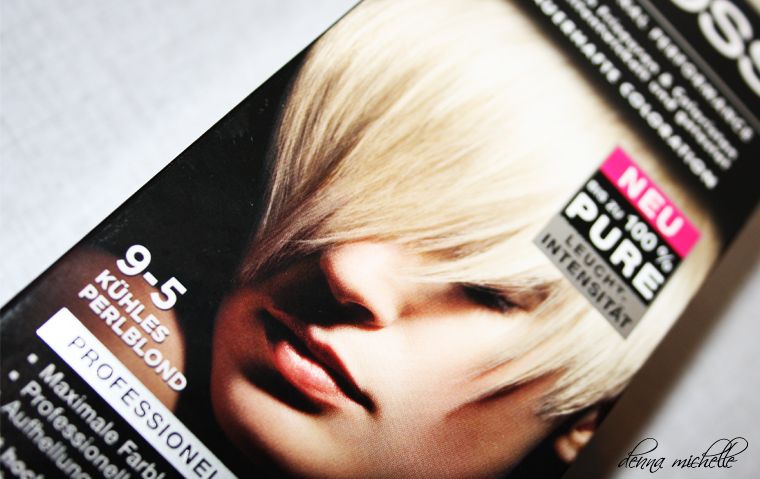 First try
Today I have an results article of my first time trying Syoss frozen pearl blonde. I think it is a new color because the box says "NEW, till 100% pure light intensity" but I have no information on when it came out and if it is really new because I bought this in the store myself. What I can tell you is that I always buy my hair dye in Germany, when I compare prices there and in Holland where I live it is a big difference. I payed for this box in Germany €5 and in Holland it is €11.99 so more then double the price. For results keep on reading.
I tend to read a lot of hair dye articles to see how different box dyes turn out. But I do know that many people do not want a long story about everything that went on and how they mixed and what they felt when waiting. So I am just going to list the facts what I think is important.
It has a light scent, nothing to overpowering and it does not stink
It slightly burned after applying
Very easy to mix
Conditioner that is included is very good
Enough product to cover my roots and medium length hair
I just used this to cover my roots because the rest of my hair is very white. I followed the instructions and left this product on for 45 minutes and this was the result
I am not really happy with the result, it looks very yellow-tone and not normal yellow but dark yellow. Nothing like what the box promises. After taking the pictures you can see above I applied purple shampoo to try and get the yellow out but it took 2+ tries to get it somewhere close to my own hair color but I am still not happy.
The positive is that it is very easy to apply, it does not drip and it does not stink.
Yet the results are not that great.
I am saving up for a new camera so I can film hair dye appliances and results so you can get a better picture. But it might take some time before I can buy one. But I do hope this article was helpful.
♥
Denna