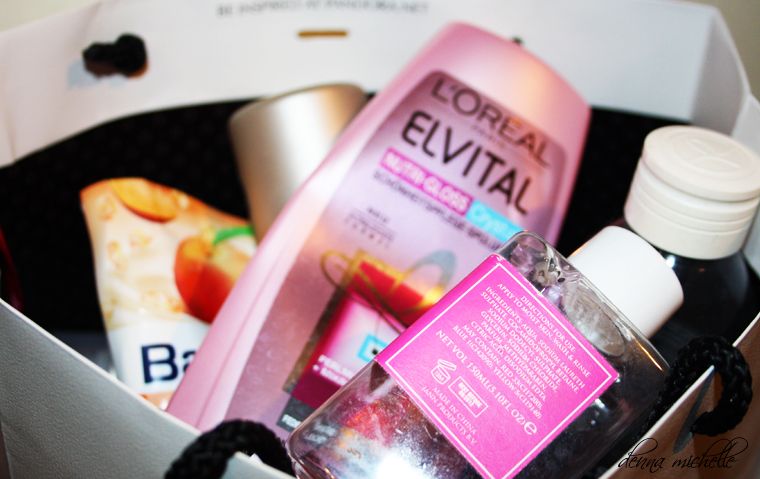 Finished products
This article was actually meant to go up yesterday, but stuff happened and sadly enough it resulted in no article. But today I have my article, it features 8 items that I finished in February. Depending on how much I finish next month, I want to have a monthly blogposts with empties and one day when I have practiced I want to do these kind of posts in video form. But today I am going to tell you about about the products that I emptied.
Elvital Nutri-gloss Crystal, for hair that has no shine. It is said to have pearl powder to give your hair crystal shine. To be honest this conditioner was very cute, it was pink with glitters. And my tiny heart adores glitter, but that is the only good thing I can say about this. This does not really make my hair soft or shine extra, it is a mediocre conditioner and I think that other conditioners from the same line are better. I personally adore the fiberology line more.
Got2B Rocking it, my current dry shampoo. The above bottle I finished but I have three backups laying around. I accually never found these things in Germany or Holland. I found them on vacation in Austria ages ago. I needed dry shampoo. This is not as great as other dry shampoos but it does smell nice.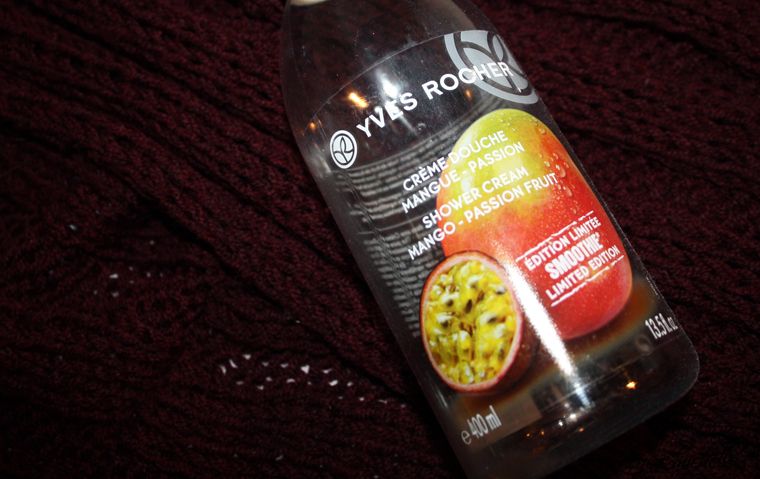 Yves Rocher, creme douche limited edition smoothie in Mango and Passion fruit.This product is one of my favorites, Yves Rocher never disappoints when it comes to scent. This creme douche smells like a real mango and passion fruit smoothie. But next to the heavenly scent it also makes your skin feel soft, I would re-buy this if it was not a limited edition. The only thing that is slightly bad about this product is that the bottle is hard plastic, it was very hard to 'squeeze' the last bit out of it.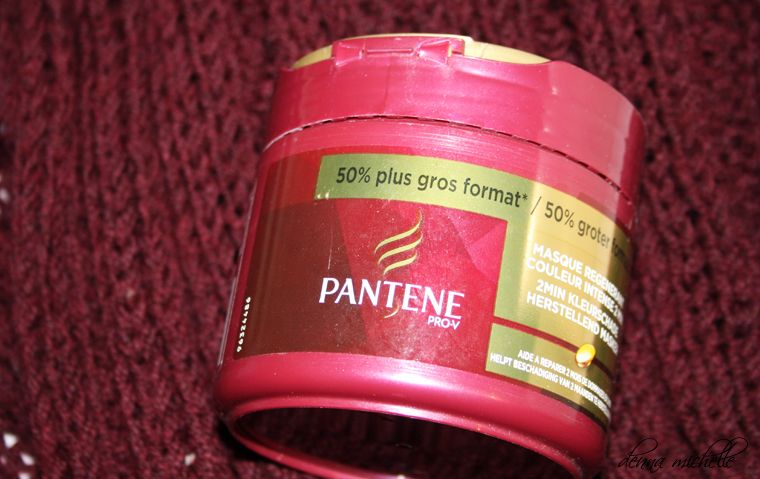 Pantene is normally a nice brand for me, but this repair mask was horrible. I could not tell that this repaired my hair, it felt the same as I would have only used shampoo and conditioner and the scent was not that pleasant. It smelled very toxic and I just inhaled it and instantly regretted it. It was a special lid to open it, but to be honest I could not open it in the shower thanks to my wet hands.
Essence like a million miles away was my scent on the go, this product was a staple in my schoolbag and I carried it round incase I forgot to spritz on perfume when I left the house. It is a very basis scent, very light and I am pretty sure this wil suit a lot of people.
Gliss kur hair repair sprays are something that I finish up a lot. I use these after I wash my hair, I then let it towel dry and then brush it when my hair is still damp. I feel that this product combined with my Tangle Teezer gets my hair knot free in seconds. I finished the version for colored hair, the scent was not my favorite but it works perfectly.
The above product looks a tad murdered, I had to cut it open and even cut the sides to get the product out. This product is very hard to get out of the tube. The Balea product is called Sunny Peach and it was a shower sorbet. And I think the scent on this product was amazing, so soft and smooth. It really captured the scent of a big sorbet with peach on a warm summer day. But the package was just horrible, the moment I snapped and cut it open it was only halfway empty. I would actually rebuy this if balea changed their packages.
Yves Rocher Monoï de Tahiti was a product that I kept into my sport bag. Officially it is a shower gel shampoo. I personally get scared when body products also can be used in my hair, so I kept this a shower gel. The scent was very bubblegum, something that I did not expect because the package looks very floral. It did nothing special for my skin but it sure did smell nice. Also I think this was a limited edition.
♥
Denna