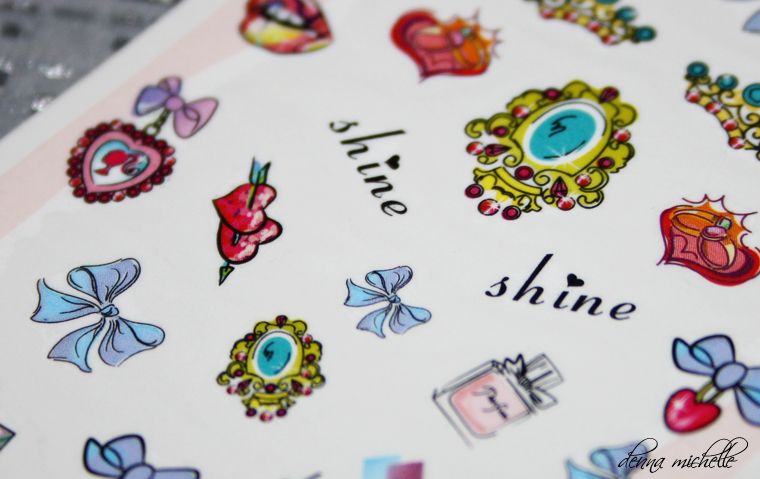 In 135
Recently I got
these
nail decals from born pretty store. A sheet is $2.17 and you get a load for that small price. I had so much fun with the nail decals. There are so many options and it is so easy to transfer. I had so much fun doing nail-art with these decals.....
Very girly
There are three options with these decals, 135 (the one I got) 134 and 133. All three sheets are very girly and sweet. I personally feel these will match up with all pastel polishes, I also went as you can see very pastel. I used Essie Bikini so teeny as a base for my nail art.
How to use
Using this is very easy, you cut out the decals that you want. I picked the perfume bottle, the ribbon with heart, the mirror, a earring and some glitter. It was very easy to cut out, you do not need to be perfect because most of the backgrounds are transparent, only the parts on the pink also transfer with a pink background.
Then when you cut out the decal you remove the film on top, you place it in water for a few second and then you just slide it of the paper and place on the nail. Then I try to dry it with a tissue or towel and I end it a topcoat to keep it in place. It all is very easy and you can not go wrong.
I personally feel that $2.17 for a
sheet
is very cheap because you will get a lot of use out of it. Also it looks kind of expensive on your nails, like you had it done instead of doing it yourself. I had a load of complements on this already.
What do you think about these decals, pretty or not your style?
♥
Denna
This blogpost contains products send to me,