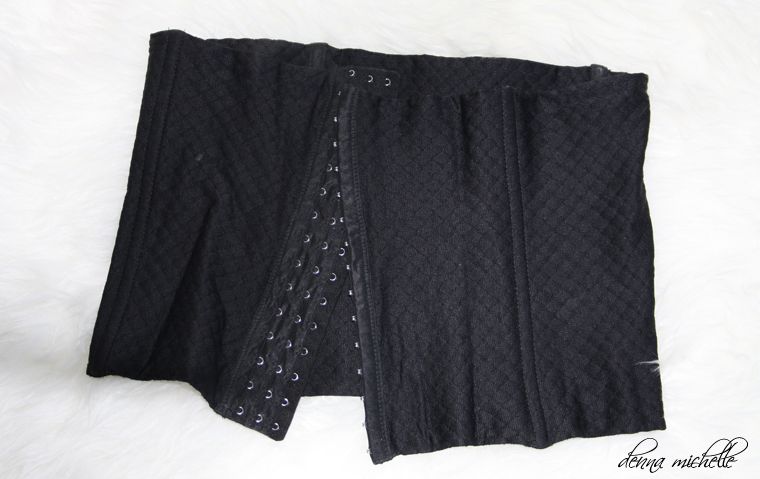 Waist training
Corsets, we all see the same thing when we think about corsets. Tiny waists and some restriction in breathing. But actually corsets are trending at the moment, they can be a great tool to get a waist, but you know..you need to do it the right way. I know some people who wear a corset day and night and the be honest for a newbie that is not the right way to go. I am not a professional and I do not know everything about corsets and corset training, yet I want to tell you about my experience.
I ordered a stretch corset from eBay, these are not the best corsets but the one I found is decent especially for a starter who is new in the whole world of corset training. The corset is cheaply priced and have 4 steel spring boning. Most 'fashion' corsets have plastic boning that will bend out of shape or even break. You want something strong and that would be steel. I am personally not a big fan of the spring boning, I would have preferred one with normal steel boning but they were out of my price range at the time. As I said the corset I ordered is great for a beginner.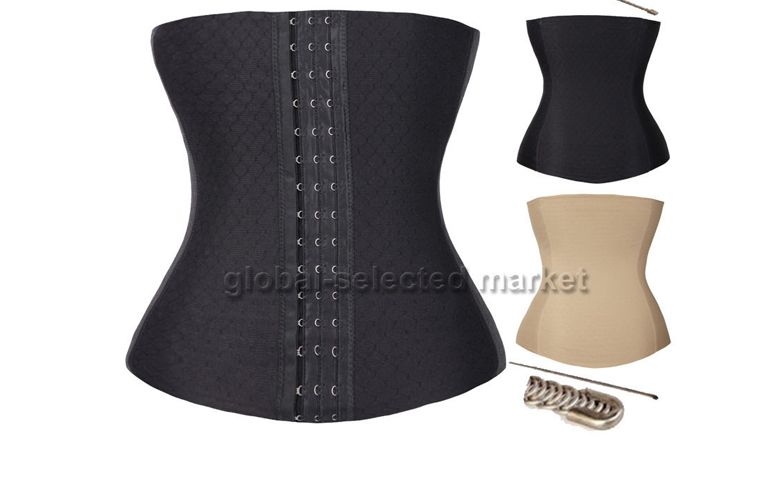 Sizing was not tricky for me because my size was between the numbers shown, I do have to say these run a tad smaller so if you are the highest number of the waist trainer I would order a size up because I am 5 cm smaller than the recommended biggest size and I could just close it the day I ordered it.
Result wise, I am not a big 'I measured everything' kind of person. I used to do that a lot and I believe that it is not healthy for me to measure and pray for results. What I can say that it took 2 weeks for the corset to feel looser and I could close it one tighter. I am currently in the middle row at week two and I really like the way that it feels. It is starting to feel looser but not loose enough to go a size down. And I think that if you want to do this, that is something you need to watch out for. You need to take time for your body to adjust, your body gets pressed together and your weight gets shifted, and that takes time. You should not force it, because we are talking about a body that can get permanent damage.
I do want to note that my waist for smaller, my friends notice and my mom tells me daily. I do not naturally have a waist so the small change that this corset gave me is really amazing to me. But that is not everything, the corset also improves my posture in an amazing way. You cannot slouch in this and you are forced to sit upright all the time. And because my breasts are rather big, I used to be a big slouch person. And sitting all mushed together does not make you look slimmer, a good posture does!
The first few days when I got this corset I wore it for 2 hours, I wanted to build it up. I read online that a starter should wear it for 20 hours a week the first. If you wear it daily 2.8 hours a day would be very nice. I am currently at 5 hours a day, I change the time when I wear it but I never sleep in it. Sometimes I put this on in the morning underneath my cloths, the metal clasps do not show underneath most tops but I also like wearing it at home over a tank top. There are many ways to wear this and you can order it in three colours. I personally picked black because I wear a load of black clothing and I daily wear black tank tops underneath my cloths. It just looks like I am wearing a black top underneath and I really like that.
There are a few tips that I really want to share if you want to corset train or just try it out. I know a lot of people see those icky pictures of women with shifted organs and read stories about women who got permanent damage from wearing a corset. I would say, if you wear it the correct way, nothing can go wrong. I would advise reading a lot of corset blogs/websites because they know what they are talking about. My first tip would be that you need to drink a load of water, you will sweat because of the corset and you need to refill those fluids because being dehydrated sucks. Also I would advise water because carbonated drinks will make you bloated. Also do not sleep in it, especially when you are just starting, give your body time. And one of the most important tips is, workout next to wearing your corset. When wearing your corset you use something ells to keep your body upright, and you need to keep your stomach muscles. So target the belly muscles daily with some planking.
Also the last thing that I want to note is that a corset is not an easy fast way to get slim. A healthy diet and exercise is the way to lose weight or get thinner. A corset is a nice tool to shape your body and improve your posture but it is not a miracle.
I bought mine from this seller here. And the shipping was super fast. So I really advice this seller.