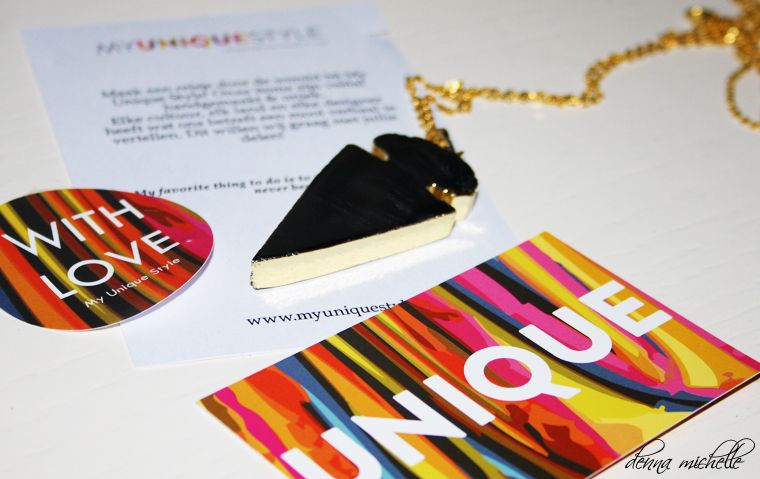 Where fashion meets travel
Myuniquestyle
is a web shop with jewelry inspired by traveling. Trends are spotted in South America, Peru, Columbia and Brazil and it is all brought together in one web shop. When describing this collection in a few words, I have to mention color but also unique and fun come to mind. Today I am going to show you a lovely necklace that I received and tell you a bit about
Myuniquestyle
A webshop that spends time on packaging is a great one. Some jewelry pieces like the big gemstone that I received are fragile and can be broken during shipping but myuniquestyle sends out their packages in a big bubble-wrap padded envelope and for extra protection the jewelry came in an other layer of bubble-wrap. Also the necklace was packaged with love, it was on a cardboard card with their logo and url. Also they included a business card with their colorful logo on one side and on the other contact information. It is a really well put together package.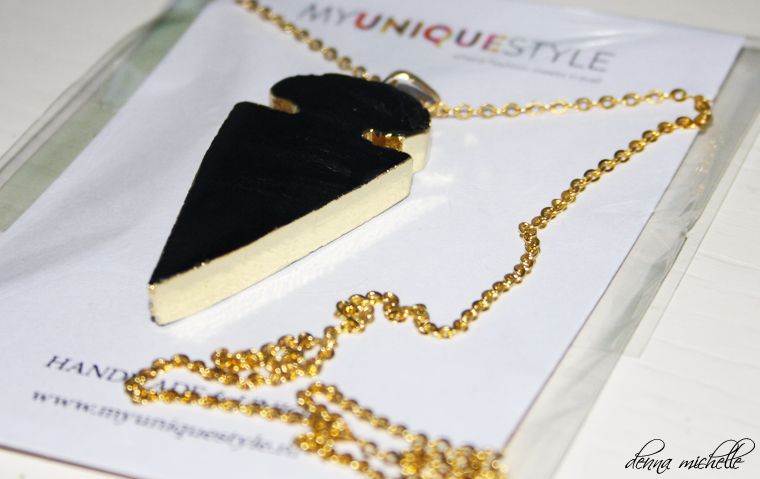 I was very blessed to receive
this arrowhead necklace
from Brazil, The necklace features a big and heavy black agate that has a layer of gold round the sides and a long gold chain. The chain is 80 centimeters long that is roughly 31.5 inches. The stone is 6 centimeter/2.36 inches long and 3 centimeter/1.18 inches wide and 7 millimeter/0.27 inches thick. It is the perfect size stone to wear on a long necklace and layer with shorter ones. I also think this fits the current bohemian trend.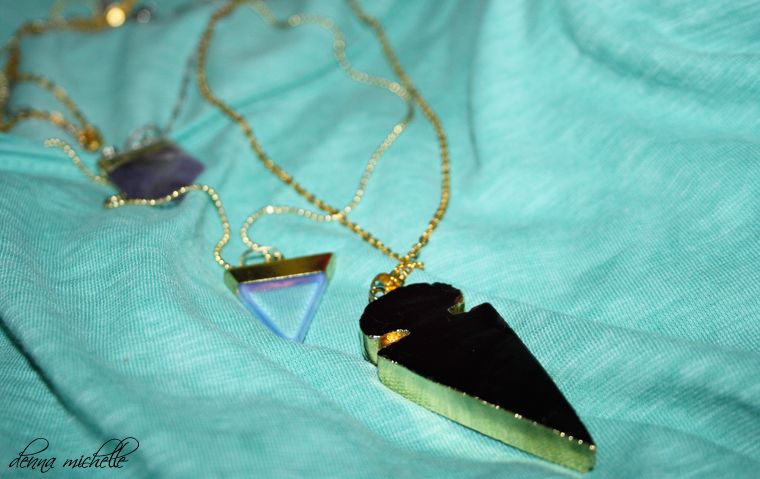 How I am going to wear this is simply on it's own on a big warm beige sweater. But I also can not wait for warmer weather when I can layer this up on a plain t-shirt with my other gemstone necklaces. This black and gold necklace is something that would fit many outfits and styles.
Browsing the myuniquestyle web shop I was blown away by the variety of their collection. They have many different bracelets, some with a stone like this lovely
gold bracelet with black stone
. My favorite pair of earring shave to be these
mint druzy gold ear studs.
If you are like me and prefer necklaces with stones I would advice you check out
these.
The
arrowhead necklace
that I received is only €19.95 what I feel is very reasonable priced. The pieces are good quality. So if you want quality for a really good price, check out
Myuniquestyle
♥
Denna