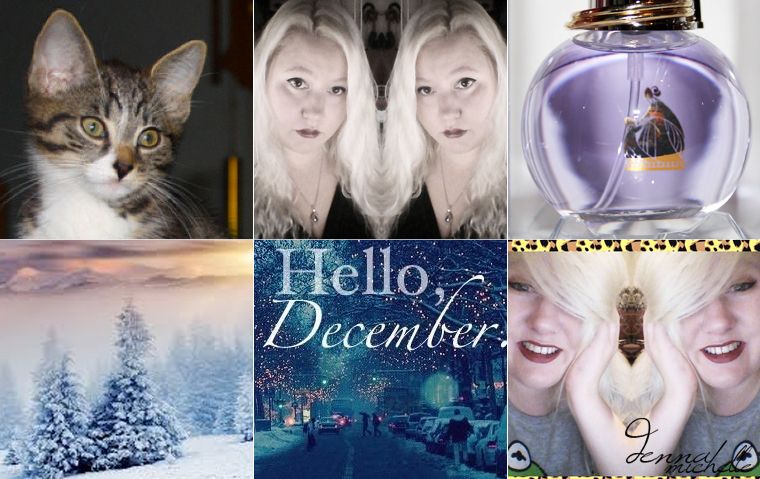 Lets fill this up!
Today I am filling in the December tag, and I would love it if you also filled this one. It is a rather short tag but I love the questions they are really good. 
1. What do you love most about December?
To be honest, I am somewhat of a Grinch. But what I really adore about December is Christmas, I love buying things for my loved ones and seeing them happy when they open it. Also dressing up during the season to be jolly is one of my favorite things. 

2. What is your favorite perfume to wear with the holidays?
Lanvin Eclat d'arpege
 I tend to go for this perfume on special occasions. Next to the amazing bottle, I get a load of compliments when wearing this. If I could I would buy a big bottle and wear it daily, sadly enough this poor student can not afford that.

3. Which 3 products can't you live without this December?
My computer, I order a load of Christmas gifts online because I want to give my family great gifts. 
My large mug, The moment I get cold...I go into tea hoarding mode. I love big cups of tea to warm me up after surviving a long cold day.

4. What is your go-to look this month? 
I am a traditional winged eyeliner girl for daily looks, also red lips is a staple. For this month I tend to make everything more festive with a touch of glitter and some highlighter. 

5. What is your most favorite glittery product? 
Glittery nail polish, I do not care about the color, if it glitters...it has to be on my nails.

6. Show us your favorite ornament from your Christmas Tree.
I actually have not favorite ornament, my tree features only balls ranging from red to pink and white. I always create an ombre effect with it.

7. Which candy are you going to eat too much of this month?
Not really a candy fan here [I am sorry, I do sound like the Grinch in this tag] But I am looking forward to ice cream as desert. It is a tradition, because I am a big fan of ice cream. 

8. What is your favorite December/Holiday related movie or TV show to watch?
I love it when to add Holiday related episodes to my favorite tv-shows like supernatural or pretty little liars. I am really looking forward to having that appear on my watchlist. 

9. What do you really hope Santa has wrapped in a present for you this year?
Pandora please, I really adore the rings and of coarse the charms. But every present will be a good one, I do believe it is not about the presents, but I do love the fact that my loved ones took their time to get me something pretty to end an amazing year and something that I can keep for years and years.

10. The Holidays are all about sharing the love, Who do you want to give a shout-out and why?
Dutchfitwomen
 - You are fucking amazing and strong and beautiful. This year you put up a fight and showcases how amazing you are. And I do hope that next year will still be even better.
Diana
 - I am amazed by how you are chasing your dream. I think 2014 has been a great start and I wish that your shop will grow even more during 2015. And that you have many orders.
Marit
 - Fitgirl that it is an inspiration to many. Also I have so much respect for her, how she went after her goal. She started her blog this year, and I always linger for more updates because it is a great read.
And all the girls from the forum that I am a part of, you know who you are! 
11. I am tagging
And you! Leave me a link if you use this tag, I would love to read it!
♥ Denna