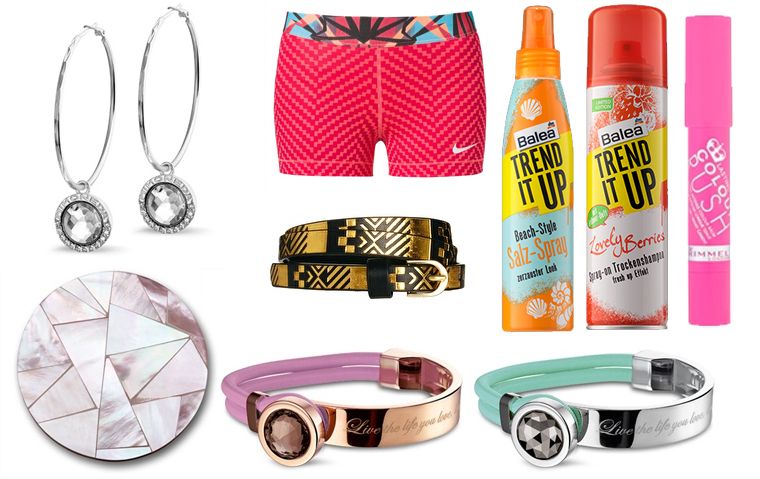 My Current wishlist
We start with the most expensive thing on my wishlist, a pair of earrings by Mi Moneda. They are from the new collection together with the other Mi Moneda things in my wishlist. These earrings are called Pia and are €130 I do not have a link for them where you can buy them but I found them on 
the Mi Moneda site
 and I was so lucky to find a blog with prices. As I said I also do not have a link for the coin it is called the Caresma in light pink and it is €20 for a large coin. And last from the Mi Moneda bunch we have the new bracelets that I really prefer over the old ones, there are more colors but I really like the mint and the purple. They are going to be €50 a piece.
Then we have a colorful short from Nike Pro, I think this would look stunning with a black top and bright sneakers. They are perfect for the approaching summer. They are called the PRO 3 ZIGZAG and you can get them at Zalando 
at this link here
 for €27.95. I really like that they added the logo in white on it. Underneath is a belt by Asos it is currently on sale 
at this link here.
 As my friends know I am in love with aztec print and black paired with gold is perfect combination. Also it is marked down for only €4.92
Next up are three beauty products or hair and lip products I should say. The first two products are limited editions from Balea a brand you can get at DM a German drugstore. Sadly enough the site does not give pricing but they are very budget. The left is a beach sea salt spray something that I really want to try. And next to that we have a dry shampoo with a berry scent. Last but not least is something similar to a chubby stick, but this one is from Rimmel and only €5.62 
And you can get it here.
Tell me what is on your current wishlist?