Lets make make-up brush cleaning easy
Cleaning make-up brushes, something that I like to compare to shaving legs. Something that you need to do, but do not like to do. I hate having to run my brush over my hand over and over to get all the product out and then repeating and repeating till all my brushes are clean. It takes to long for something that I do not like doing. I once heard of a big glove that would make cleaning easier, but to be honest…I do not like to own a big thing for just cleaning brushes. But one day I spotted a small version of that product on eBay, a brush-egg. A small palm sized product that is said to help you clean your make-up brushes…but does it work?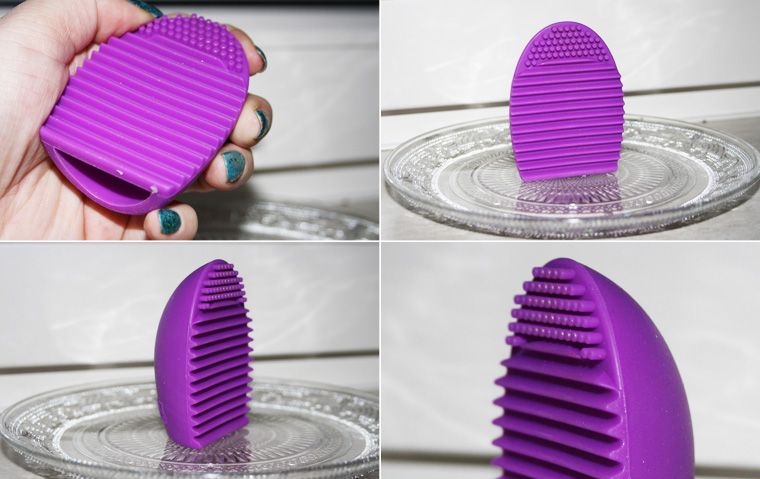 Lovely purple
I love buying products in cute colours, especially make-up related items I have to buy in girly colours. I was debating between pink, mint and purple but in the end I decided purple would be nice. The product that I received is more sturdy that I expected, it is thick and not flimsy at all. Also the rigs are deep what makes using it easier. The hole in the bottom has room for two fingers.
The brush-egg looks like a decent gadget that is nice to own for a few days and then it end up in a drawer. But I was pleasantly surprised with how much faster this product makes it to clean my brushes, and it really cleans them. I first tried a white haired brush with a load of dark purple and black eye shadow and it only took seconds to clean. You just add some shampoo or brush cleaner on the egg and then you run your brush over it. It is easy, fast and leaves you without a lot of clean afterwards.
I think this is a nice little investment for people who use their brushes daily and hate cleaning them. I think brush cleaning is something that a lot of people forget, and forget intentionally because it is not a fun thing to do. I am getting a few of these eggs to give to friends who also adore make-up.
You can buy your own here for only $1.32
How many times a week do you clean your brushes?
Lots of love,
Denna