Patterns and clouds
I have a love and hate relationship with stamping plates because I am not really good at using them. But recently I decided to take the plunge and get some stamping plates. Today I want to show you my pattern stamping plate. I am a big fan of large patterns all over the nail, I think they look so sassy and like it took loads of work, while it only took a few minutes! So read more for more information and this plate in action, also I will include my mermaid nails!
Born pretty store!
I got this plate from
Born pretty store
and it was only $2.99 what is a really good price for a stamping plate. The plate comes with a protective blue film that keeps your plate scratch free during shipping, also it has a special backing that sets itself apart from other plates, no cutting here! The plate has three clouds, one with sun and rain, one with the moon and snow and the last with a thunder. I think they are very cute, but I am more interested in the patterns. Expecially the scale like print, it seems perfect for mermaid inspired nails.
You can get your plate
here
. Also with my code DIB10 you can get 10% off.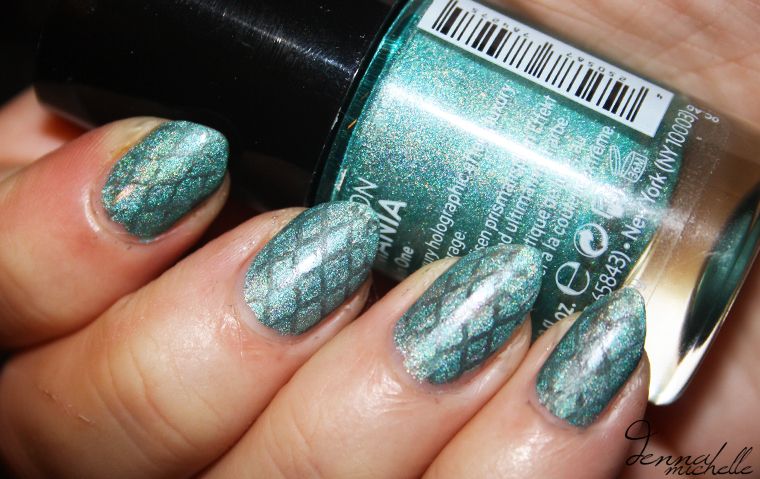 Mermaid nails
And so said and done, I wanted mermaid inspired nail art and I went for it. I used a holographic polish called holo in one, from an old collection from Catrice and I used W.I.C herome Kuala Lumpur for the scales. Now I have to say that Kuala Lumpur is a thin and light polish and it does not really apply well. But still this plate worked wonders because the pattern came out flawless. I really love this combination and it was very easy to do.
Other patterns
Then I decided to use a better combination to really showcase the designs. I used Catrice underwater Laugh as a base and I stamped with Vino Tinto also from Catrice. As you can see the patterns came out perfectly. From left to right we have some sort of basked weave design, I think this is really intricate and I think it would look really nice stamped in black on a gold accent nail. The one next to it looks like bricks to me, I really love this in the color combination that I showed, it is edgy and would look perfect with some nail stickers. The one next to that is some sort of floral design, I think this would look perfect in pastel colors. And last but not least the pattern used for the mermaid design. I am not sure how to call this pattern, it reminds me of a fancy rug pattern. And after some googleing I found out it is called a Moroccan quatrefoil. It is a stunning pattern and would look perfect in many colors.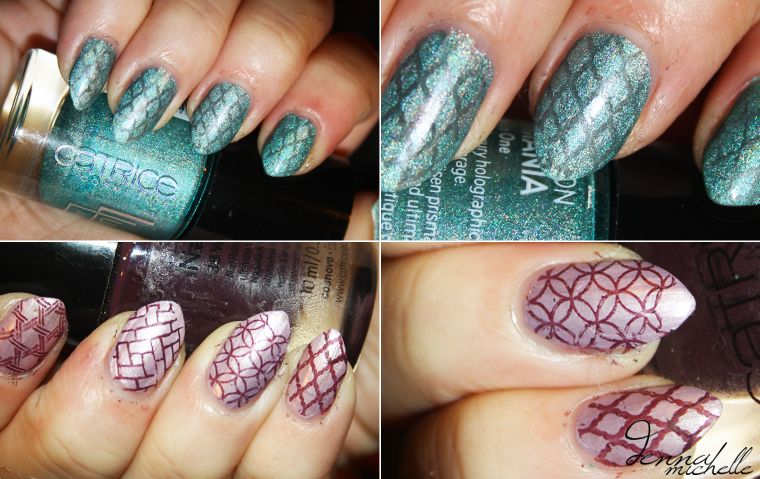 To sum this up, the plates are deep enough to make a perfect transfer. The patterns will suit many different kinds of nail-art. And also these are very decent priced. I am already thinking about Christmas gifts, and I am sure many people will be so happy to receive a basked with stamping plates and other nail art.
I got
this grid pattern stamping plate
but there are
many more
also some are on sale at the moment.
Use the code DIB10 for 10% off your order
Denna
This blogpost contains products send to me,