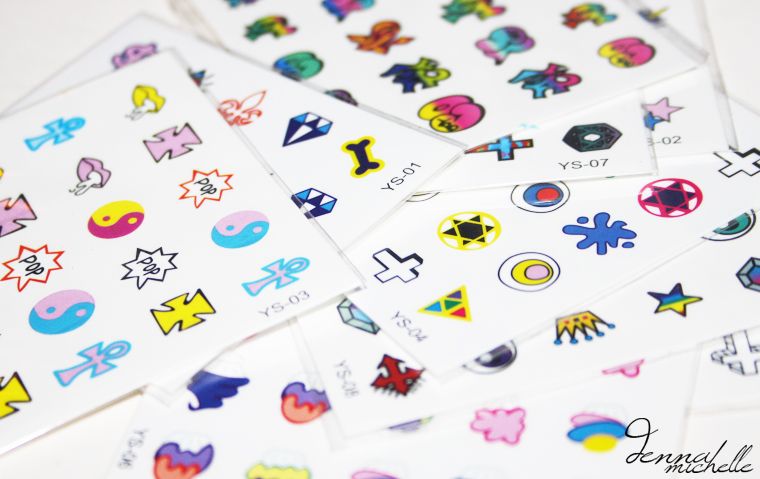 Fun, color and cute
Recently I got send the most cute set of
nail decals
, they feature a large variety of designs crosses, rainbows, unicorns, cupcakes and much more. They are very playful and easy to apply. I have to admit that decals are my favorite thing to add to my nails, because they feature details that I can not do freehand. So to see different combinations and all the decals, keep on reading.
9 Designs
Born pretty store sells a set for $4.72 and for that price you get 9 sheets that are loaded with images. You can buy the one I ordered
here.
Also with the code
DIB10
You get a 10% discount.
Above you can see all the designs that you are getting, many of the designs are very K-pop, graphic and bold. I am a big fan the sheets with the cupcakes, unicorns and I really adore the yin yang in pastel. Also I am planning to use the crowns for my holiday manicure so these will be popping up on the site during the holidays. I made a few combinations that I wore so you can see how they look on the nails. Also I will tell you how to apply these.
How to apply
I struggled the first time to apply these because I had no idea how to use them. After two tries it turned out that it is very easy.
Remove the clear plastic from the top and cut out the images you want to use.
You lay the decal in the water for a few seconds.
You slide the image of the paper and position on the nail.
Now you just need a topcoat and you are done.
It is very easy and takes just a few seconds. The images are the perfect size to go on short nails and look also very nice on long nails.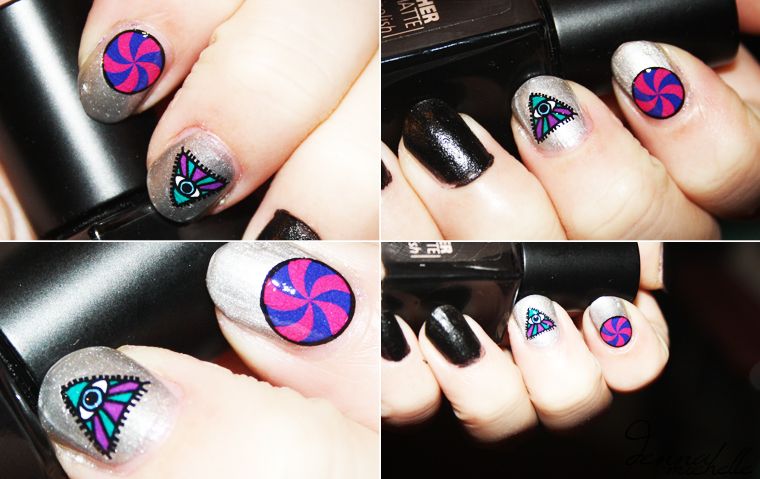 The quality of the decals is very good, some have a black border like the one above. They really pop when looking at them but the cupcakes for instance are lined with a color what makes it more 'cartoon' like. There is a nice variation that you are getting when ordering
this set
. Also you have much use of these because you get nine full sheets.
I do think these grab your eye. Nail-art can be so small but still get noticed especially if you talk while waving your hands like me. You can add them to a simple color but they also look great on top of a full glitter nail. You can go for a decal on every nail but if you want to take it simple you can add one on your ring finger.
My favorites have to be the cupcakes, they look to freaking cute! I can see these being worn over a variety of colors and be rocked by many people. I got the most positive reactions when wearing these. They look so cartoon like and cute! Hands down my favorites of the bunch. Also they look great over the P2 sand polish.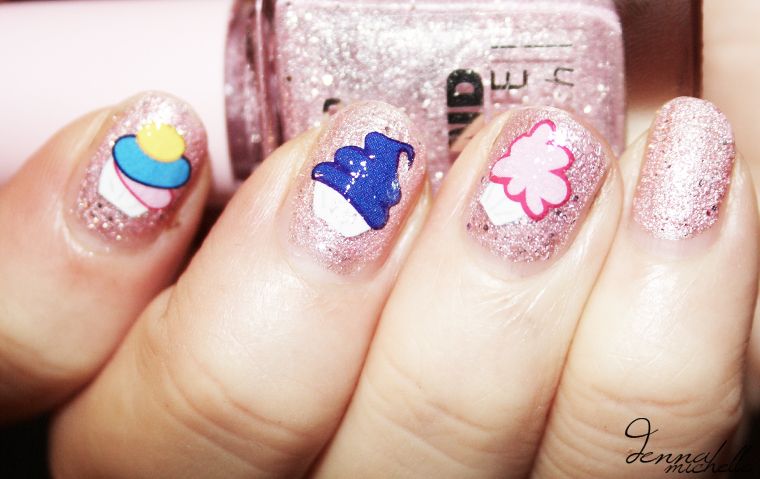 What do you think about these decals? You can get them here. And please use my code DIB10 to get 10% discount!
Lots of love,
Denna
This blogpost contains products send to me,