10 Total repair BB creme
Recently I have been into BB cremes especially for school and daily wear. It still gives me a good complexion but I feel like it is better to my skin then foundation. Also I love that I can just apply this with my fingers instead of using a brush or sponge like I do with foundation. This product promises a lot things, 10 things to be exact. Do you want to know how this measures up to the claims it makes?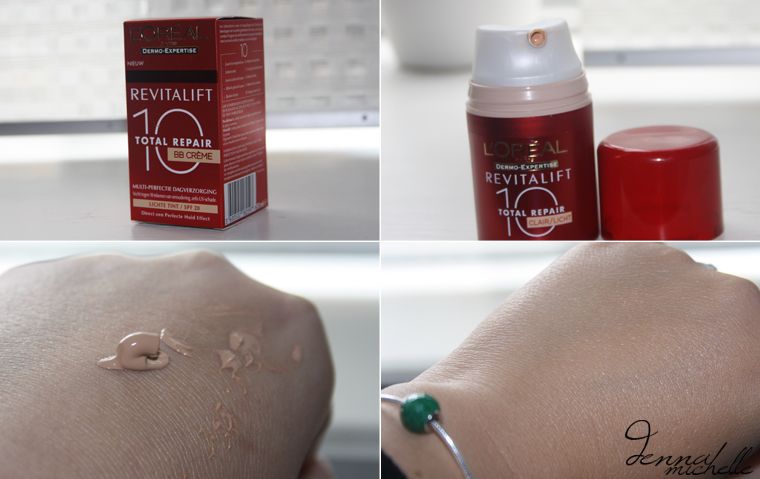 Multi-perfection day creme
The claims
Covers imperfections
Smooths out the skin color
Smooths out the skin surface
Improves the quality of your skin
Illuminates
Hydrates
Corrects dark spots
Lessens files
Firms contours
Protects against UV-light
The package
The bottle comes in a cardboard box. I personally really like this because it makes it feel more high end, also I adore reading the information on the box. And this box surely tells me a lot of interesting facts.
The whole design is very lovely. The design is very neat and the red is a very good shade. It all looks really expensive. Also the pump makes it very hygienic in use.
Trying it out
I personally feel like it does not disappoint but it does lack on some points. I tried this out longer then a month and I am still not sure if I want to keep using it. The claims above make it seem like an full coverage product and let me start with saying, it is not. When I apply this as normal my face moles shine trough and the red of my cheeks can also be seen slightly. I personally do not see this as a bad thing because it can be great for girls with good skin who want a product to even out there face but do not want to apply a full coverage product. Also it hydrates and protects again UV, Also it makes your face feel really smooth.
But there are some points that make me want to toss it in the trashcan. The scent is awful, it smells really strong and scent lingers for hours. Of coarse this is personal preference but I think it smells like it turned bad. Also it makes your skin look really shiny and dewy. Above in the last picture you can see it spread out on my hand and my hand looks like I applied something wet to it.
Verdict
I think this is a product for girls who have dry skin and want something light coverage. It does have good ingredients and it feels high quality. Also it acts as a good make-up base. I personally would always use a matte powder with it.
Where to buy
Lots of love,
Denna