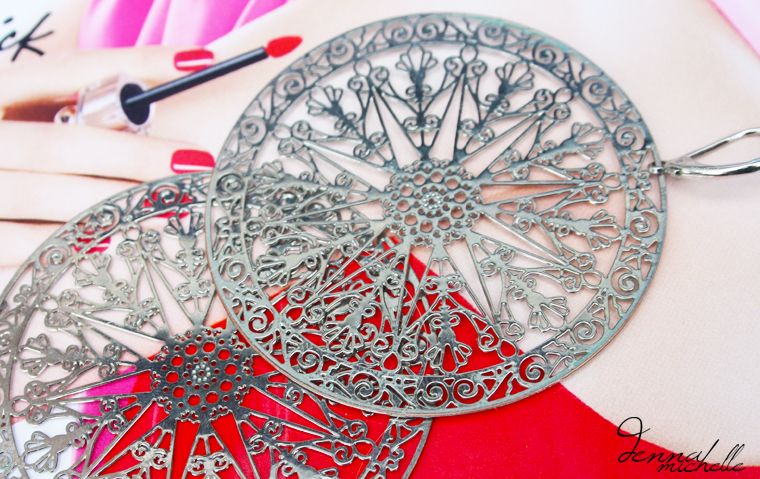 Lace earrings
When I was in Italia I did what I really wanted to do, shop at markets. I feel like the markets in Italia are different then in the Netherlands, while the Netherlands mostly have 'junk' that I could buy on eBay. I feel that the Italian markets have more unique things, there is of coarse also a large variety of junk but I did found some unique stands with quality jewelry. I decided not to buy a lot of things so I only gpt one pair of earrings on the market. I already sneak peeked them on my instagram
here
, but because I noticed that many people liked this kind of earrings I decided to make an blogpost about it with some alternatives for you to buy for a nice price.
My earrings
As I said I got my earrings on market, the man was selling all kinds of jewelry but mostly stuff with gemstones and pearls. I associated the pearlstrings with more classiness and slightly older people so I did not gravitate toward the pearls and somehow while I am a big fan of gemstones I did not find anything that I loved. Then my eye fell on 5 pair of earrings clustered together in the middle of the table. I decided to ask what the material was, and that is a big tip from me always ask. The man told me these where steel and that he would make me a special price because I was a pretty blonde girl. I got these earrings for 8 euro what I think is a great price for unique steel earrings, if these where just plain metal with a thin layer of silver plating I would have not payed 8 euro's for this. Because I can get that kind of jewelry for cheap on eBay. Why I gravited towards these earrings is very simple, they look amazing with all hairstyles. I worn these with my hair up and with my hair down. They are slightly bigger then most of my earrings, they are perfectly round with a 5cm width.
Alternatives for you
I decided to find some cheap alternatives for you all, ofcoarse I can not find the exact same ones because I did not buy these online. If you want to buy them where I got them and you are near the Garda lake, there is a market in Lazise where I bought these.
I only found two pairs.
the first
&
the second.
They are different as I said but I still like them. I really adore the second pair I might buy that one for myself.
I would love to hear what you think about these earrings, do you like this style or do you prefer something more simple? I would like to hear your opinion down bellow in the comments.
And soon you will see more blogposts about what I bought on vacation including my very late birthday gift.
x Denna