Goals
When I started my weight loss journey I had no clue what I wanted, how I wanted it to go and what I needed to know. And starting is hard! How many people start daily and fail the next day, I think a lot. But if you got good motivation you might get to your end goal faster. Today is my first article in the serie I want to get fit / lose weight!


Unrealistic things will not work
"I will workout a few times this week"
"I will workout a lot"
"I will workout everyday, 3 hours a day"
The top three 'quotes' might be the reason why you fail, they are not clear and not realistic. The first one does not specify what a few times is. Is it two times, or three times? Also how long are you going to workout for? If you have no idea, chances are that you are going to push the workout away with 'I will do it tomorrow" and in the end you just do a session of 5 minutes because you want to reach your goal. The second also makes the same mistake of not being clear enough. And the last one while being clear it is not realistic because you need rest days also three hours a day is a lot. The fact is, you are setting yourself up to fail. And because you fail, you feel bad. And most people quit after a few bad days.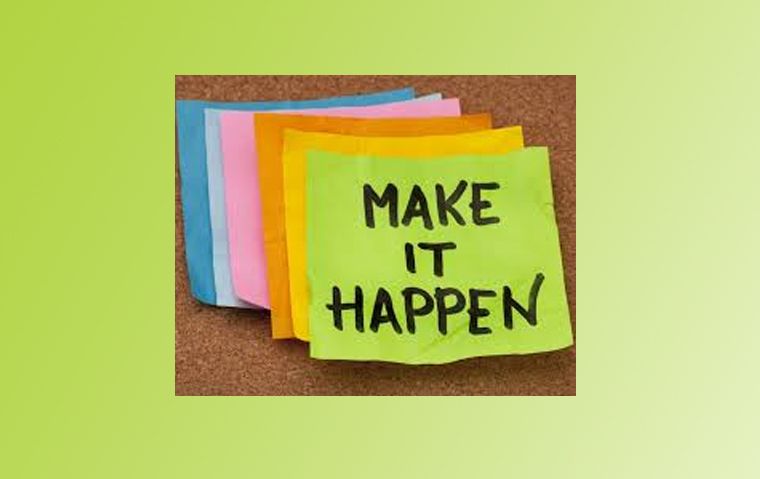 Then what should I do?
What works for me is setting goals for a month. I write it down on a post it and stick it on a place where I can see it everyday. Some of the goals I had in the past were:
Once a week I will jump rope at least 50 times
Three times a week I will do a zumba workout for 30 minutes or more
Daily I will have a cup of tea
I will walk round the neighborhood/city twice a week for an hour.
Some goals where simple like drinking a cup of tea others needed a bit more discipline. As you can see most of my goals are set low, I will always write down lower then I expect to handle because I want to succeed. When I do zumba I variate between an hour or perhaps two, but when I only have a short day left I will do 30 minutes and still reach my goal. Also when you start with your workout, you might get motivated to keep going.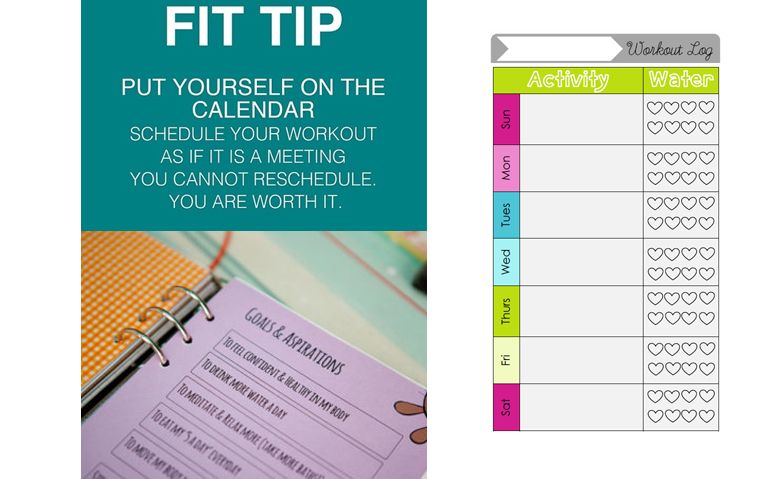 What could help me?
Planner
Perhaps your not a post-it person, no fear there are also other options to track your goals and perhaps motivate you even more. The above picture might say it all, get a planner. A really popular one is a
filofax
because you can add whatever you need, also a note there is currently a filofax sale
here
. You can add whatever you need to it, like this free
printable weight, workout and goal tracker
. But also a cheap planner will work. You can list on the days what you want to do and add some motivational images to it.
A calendar
It is almost the same thing as the planner but a calendar can be used to cross of days that you workout. Nothing is more rewarding then seeing a calender fill up. Or you can plan ahead on what you want to do that month and write it on the calendar.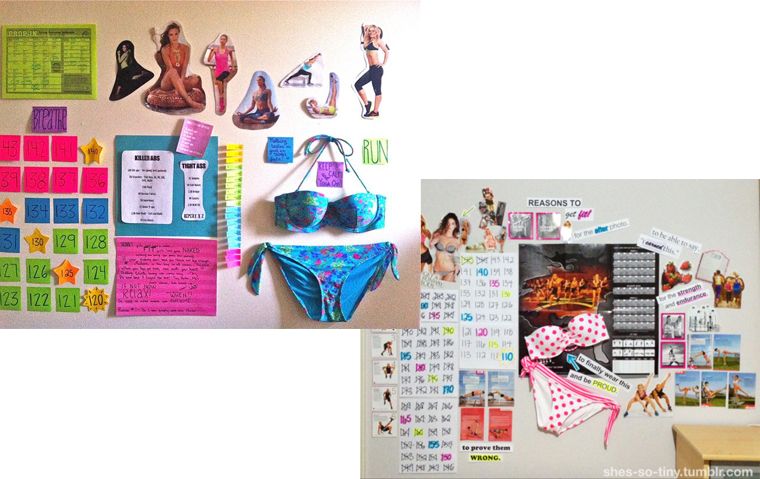 Inspirationwall
Inspirational walls are my favorite. I am still planning to make my own one day. It can have so many things and will keep you motivated. Above I posted two samples that I found online but there are so many options. Some of them are
Hanging a piece of clothing that does not fit

yet

Track your weight, and how many you want to lose
Track your centimeters
Check how many days you worked out this month
Post reasons why you want to get fit
Post a collage of images that motivate you
Make a challenge
Find people who share the same vision
The last one is perhaps the most important one. You can try to motivate yourself but it is easier to get motivation and motivate others. Together you are much stronger. And there are so many options to find people who will share their motivation with you
Join a gym
Search a forum online
Ask your friends
Join bootcamp lessons
Take your daily runs where also a lot of other people take their runs
That is my first installment of I want to get fit / lose weight!
Got a motivational tip that keeps you motivated, leave it below in the comments!