AKA the junk I drag around
It is the end of the school year, and I decided to give you all an update with my 'last version' of make-up bag. To go to school I need to take two buses and one train, I travel for one and a half hour just to go to school and I need to take the same thing back. And I tend to forget to do certain parts of my routine or I look like a mess when I reach my destination. That is why I decided to always take a little make-up bag with me. It was very hard for me to pick a small bag but I filled this to perfection. So do you want to see what is inside? Read more!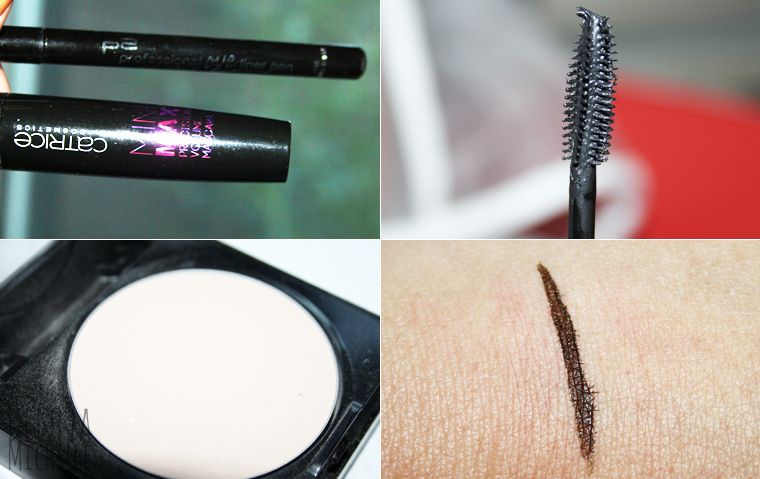 Eyeliner, mascara and powder
The first three things are basics that I almost never use but still something that I tend to need at times. The pictures are a tad bad but you can see my eyeliner from P2 in the color black, I never wrote a review for this one but I did mention the
purple version
and
blue
but the black version found its way in my bag. The past school year I had a few emotional moments where I teared and ruined my eyeliner and I also had some dust in my eye what resulted in me rubbing my finger in my eye and smudging my eyeliner. I personally prefer a pen for these little touch-ups, it works fast and easy. As you can see the swatch in the lower right corner. It is not very pigmented so I can live without not using it a lot. Then we have the Mini max mascara from catrice. It is just a decent mascara that I use when I forget to put mascara on. It is not that special but good enough to use. And the last thing on the lower left is the
Fit Me powder from Maybelline
that I reviewed here.
As I said in the review back then, I use this when I have shiny spots on my face. This product does not have a big dent because I used it maybe 10 times, but it is a good product to keep with me.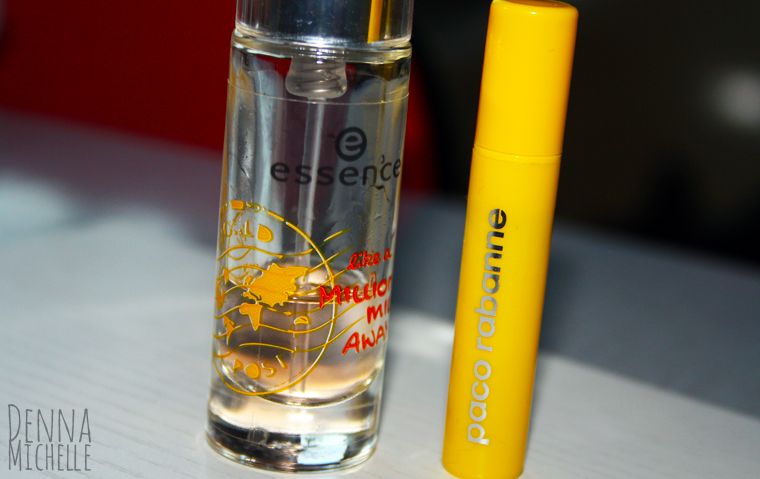 Perfume
I always have two perfumes with me, one that is suited for meetings and one that I personally really like. Perfume is something that I keep forgetting when I go to school and expecially on days where I have important meetings, tests or presentations I need to smell nice. On the left is my 'normal' back-up perfume, it is a million miles away from Essence, as you can see I am emptying it. This is my second 30ml bottle before this I had the Essence like a day in the candyshop. These bottles are small and they have 30ml, I can not say more then I just like them as back-up. Next to the 30ml bottle I tend to toss in samples with scents that I feel are amazing and that many people will like. Above you can see Poco Rabanne xs pour elle. When I have a meeting with a teacher or somebody who is grading me I tend to spritz some on before going in.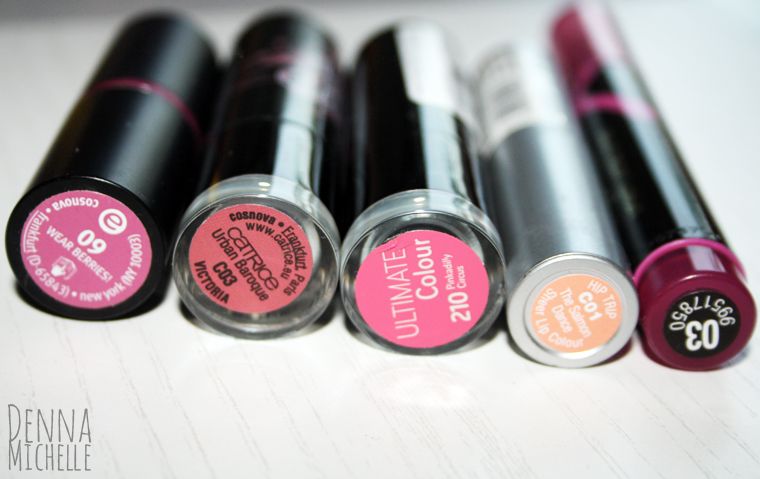 Lipproducts
I am actually surprised at my myself for only have 5 products and no baby lips. The content of my lip products changed a lot over the year, but I do feel like these 5 are my killer combination. From left to right we have Essence
wear berries
, Catrice urban baroque in Victoria [a very very old LE] Catrice Pinkadilly circus, Catrice Hip Trip and the lipstain 03 from max factor.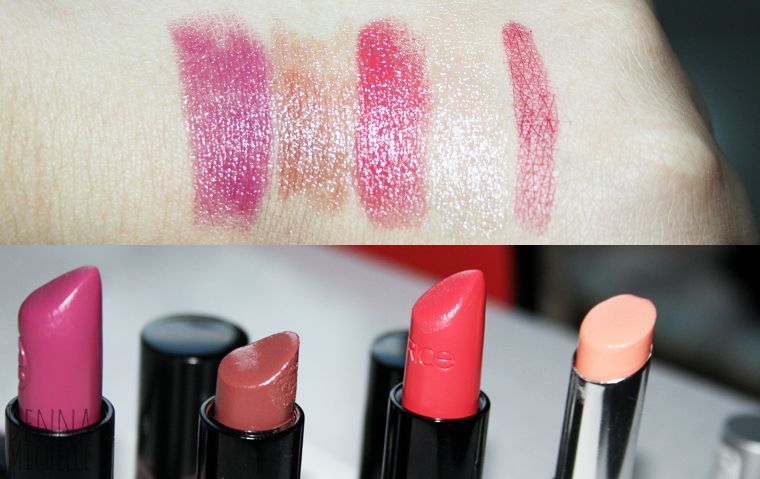 Above you can see the lipsticks and swatches, I used most of them very well. You can see that Victoria is my clear favorite because it fits everything. I had a way of sorting my picks. I decided on a pink, nude, bright, gloss and a stain. I have every lipstick that I need in every situation. So I am really happy with my collection.
What do you bring to school with you when you look in your make-up bag. Do you think that I bring to much or are you missing things? Tell me bellow in the comments!
X Denna