Lipstick addiction!
I have to say that lipstick is my favorite beauty product, I love owning a large variety of lipsticks so I can wear a different one every day. Because I have not been doing tags lately I decided to do the lipstick tag. So read more for the questions and my answers.
How many lipsticks do you own?
Somewhere between 40 and 50. To be honest I tried to count them but I have many lipsticks in bags and clutches so I have no idea how many I have and more important, where they all are. Also I got a decent amount of glosses and those big pencils.
What was your first ever lipstick?
Hard one, I think my first lipstick was brandless. I got it from my granny because she never wore it and it was an bright red lipstick. I remember people teasing me about it on school and me not caring. And I still love wearing a red lipstick now a days.
What is your most worn lipstick?
Ah an easy one, I have one Catrice Limited Edition that I adore to wear. From Catrice Urban Baroque, Victoria. I think the shade is stunning and fits everything. Now that it is nearing its end I am trying to find a dupe to replace it with but sadly enough I am having an hard time finding this shade.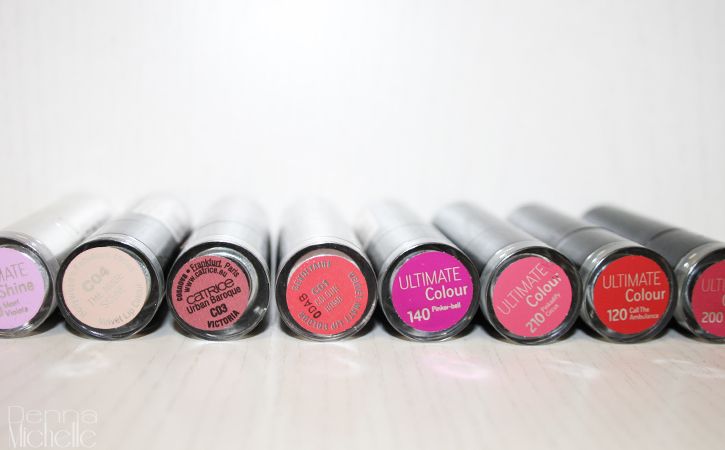 What is your favorite brand for lipstick?
I have to say Catrice even when Bourjous is slowly growing into my heart. I love the Bourjous big pencil ones and their pink lipsticks


What is your favorite finish?
I am a big fan off matte finishes. They look very classy to me.
What is the last lip product your bought?
Those wood lipsticks that I got off eBay.
How many lip products do you currently have in your bag?
In my schoolbag I currently have 6 lip products. One stain, one balm, one red lipstick, one pink lipstick and two peachy ones. I have no idea why I have so many but somehow they kept pilling into my make-up bag.
What lipstick do you use to rock a red lip?
I prefer to use my catrice matt lipcream from the geometrix collection.
How do you store your lipsticks?
In a little drawer but I am looking for something different because I keep pilling them in and I can not see in one glance what I have.
What lip products are you currently lusting over?
I am looking for a perfect dark red lipstick. Something really sultry but stunning. And a good orange, I feel most oranges are to bright and I need something that is more pastel without being to light.

So that was my tag, I would love to hear if you fill it out. So if you got this tag on your blog, drop me a link here.
Denna