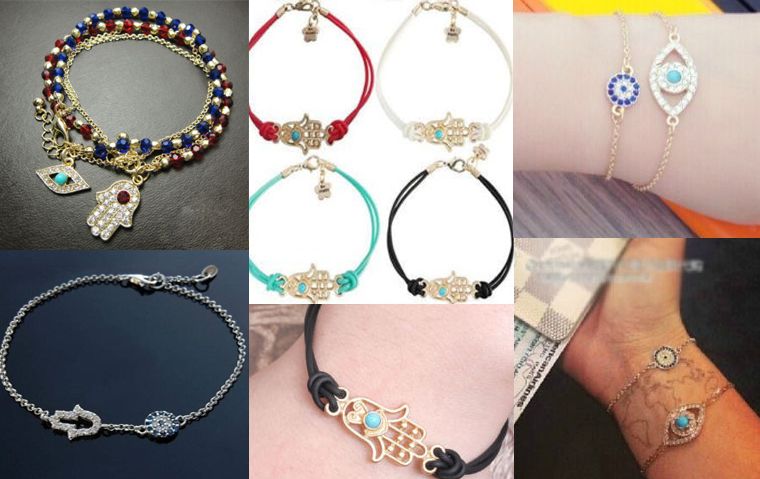 Hamsa bracelets
The Hamsa hand some say it a symbol that they believed would protect them from harm against the evil forces and bring them goodness, abundance, fertility, luck and good health. Also it is said to protect against the evil eye. I personally really like this symbol, I already have a Mi Moneda coin with it
that you can see here.
But recently I found a lot of beautiful bracelets that also have this symbol. For where you can get them...read more!
The top left from is from
this seller here,
they sell those bracelets separate for only $3.29. I am still on the fence what color I want to buy for myself. I am not a big fan of blue but I do love the dark blue beads used. But the dark red one is also pretty. What is your favorite? Team red or team blue?
Bellow that we have a silver bracelet, it also comes in gold and can be bought from
this seller,
for $4.99. I love the way this bracelet looks. It is very simple and that makes it perfect for everyday wear. I am not going to buy this one because I already got to much of these bracelets but I just wanted to share it.
The two images in the center are from
this seller here,
these rope bracelets are only $1.92 and it took me five seconds to order because I really wanted this one. It comes in 5 colors, the only color not included in my collage it blue. I personally decided to go for black because it matches everything and I think black and gold is stunning.
The last bracelet that found its way into my virtual basket is
from this seller here,
the set is only $4.99. Again I think this is perfect for everyday wear and thus I bought it.
So these where the lovely bracelets that I found and bought, what do you think? Leave a comment down bellow!
x Denna