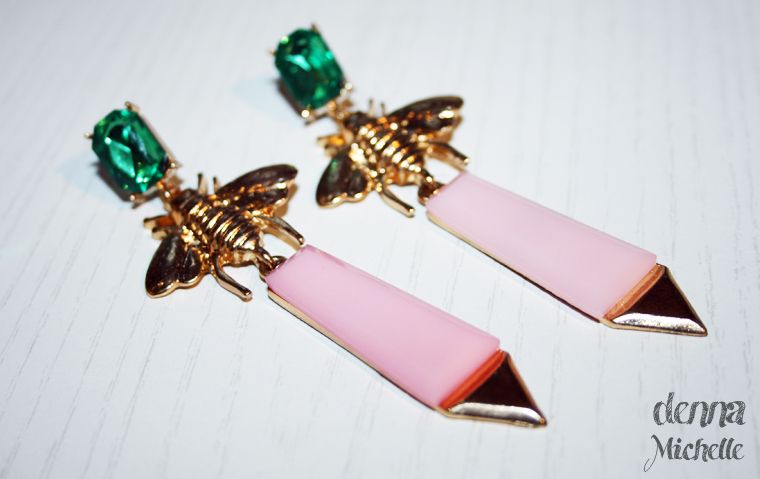 You can call me Queen Bee
And baby I'll rule, I'll rule, I'll rule, I'll rule. Let me live that fantasy. While the idea of bee earrings sound odd I fell in love with these earrings and so did some of my friends. What I noticed with these earrings is that many people do not notice that there are insects on it, they just comment what a lovely pink earrings I am wearing. I personally feel that the bees give it an unique touch, and perhaps make it more fashion. Also I love the green paired with the light pink. Today I have these lovely eBay earrings, for more pictures, where to get this and a picture of me wearing these...click read more! Also for the people who do not like this color
The facts
Price:
$2.57
Link:
here
Color:
Light pink dangle, gold details and green stone.
Size:
From stone to bee, 5 cm. Dangle, 5 cm. 10 cm total.
Other variations:
Blue Gemstone and blue dangle
&
Blue Gemstone and pink dangle
I think these earrings are really nice, they are not that heavy. They look far more heavy then they are. What I like about these earrings is that they are in three parts what are the gemstone, the bee and the dangle piece. I prefer that over one big earring because these can move whenever you move your head and that just feels so much better. The colors are really nice, I am normally a fan of silver but sadly enough these do not come in silver. I prefer to wear these with my hair up in a messy up-do with a pair of jeans and a cute t-shirt. Also I decided to take these with me on vacation to wear when I am going to dinner, I am planning to match them up with my black maxi-dress, gold body chain and some cute sandals.
So I would love to hear what you think about these earrings, leave it down bellow in the comments.
And till next time,
Denna