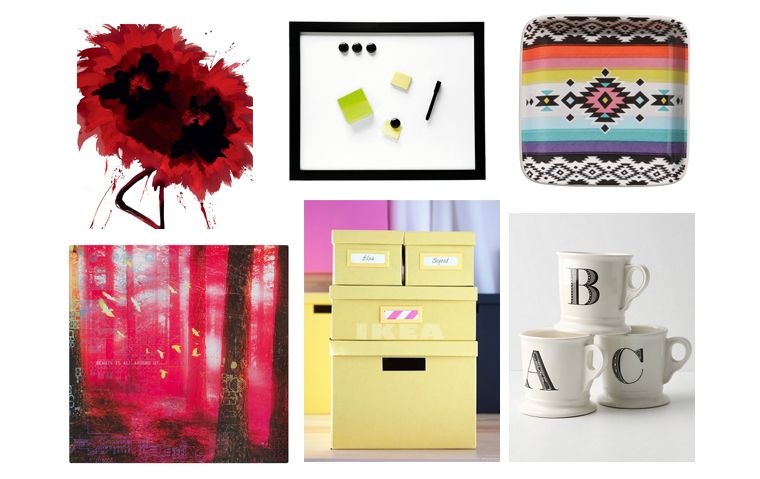 What is on my must-have-list
At home I have a little room with my computer and school stuff, I lovingly call it my office. My office also has a little vanity and a big cabinet with my schoolbooks and jewelry. All in all it is slowly coming together to the room that I want it to be. But still it is not finished, the wallpaper is a horrible white stained with yellow shade and I have a cluster of picture frames and a crooked shelve. To be honest, I am sick of it. So soon I am going to have a office make-over. The walls are going to become white with one accent wall and I am going to hang new shelves and painting. When looking online for inspiration I found a lot, so read more to hear more about the above images.
On the left we have two paintings, The red flower one is from Ikea and called
BILD Poster
and it is only €4.99 for this 40x50 poster. I really love how the red looks like two big flowers. I think it is a very tasteful and vibrant poster. The one bellow that is more a forest in pink, it is also from ikea and called
GERREBO
this one also has the text 'everything has beauty' on it, something that I have to agree with. I feel that this painting is classy but also modern also it is only €14.95 for a 50x50 painting
Next to the paintings we have a
memo board
, it is from the dutch store XENOS. It is only €8.99 and it is perfect to leave little notes or reminders on. Also this is the first memo board that I found that looks neat and clean. Most boards where over designed or gray. Then under it we have boxes from the IKEA, I can not find the link for them. But these are perfect to organize cables in.
And the last two items are from H&M and Antropologie, the
little aztec plate
is from H&M and it is only €2.95 I would use this to keep my rings on. I have some rings that I wear daily and I like to keep them close. And last but not least this
monogram mug
for only 6 pounds. I really would love that in a D version to keep my little trinkets in.
What do you think of my office wishlist?