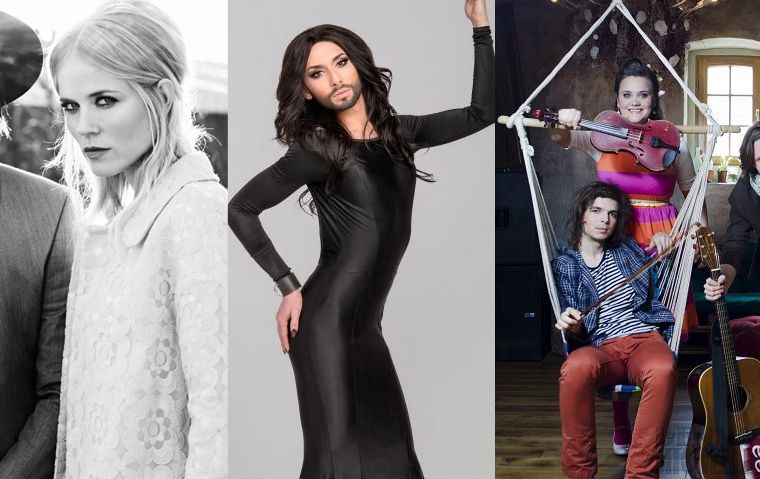 Eurovision time!
Two more days till the Eurovision song contest, till the feast begins. I can not explain to people how much I adore watching everybody sing and the excitement when the scores begin to come in. While my big sister is every formula one race stuck to the television, I reserve the sole right to watch Eurovision live without being disturbed. I will be preparing with pen and paper to write down who I want to win and a big bowl of warm popcorn to keep myself sharp for the event. Also I might or might not indulge myself with a few glasses of wine. Do read more....
Every year I have a list with favorites yet this year I still have not found a clear favorite. I kept listing to everybody but nothing really hit me. And I like the big drama numbers but they seem at a low this year. I preach the nuttier the better. The twins from Russia with the sea saw is neat but the song does not tickle my fancy. I really love their outfits but otherwise nothing really strikes me about the song. The Belgium man singing about his mother is something I would rather not discuss on my blog even I could make cheap jokes about that but I prefer not to. But nothing with a big 'pow' this year.
Also I am not sure on the Dutch entry, while I always will support my country I still not believe we could win with that. The song lacks a climac and something special, it is just a train that keeps on going at the same tempo. I am sure that many people will agrea with me that
this version
featuring the same song is far better. But still I heard other countries picking it as a favorite. I am not sure if I would pick this song in my top 10 but it is decent.
But on a positive note, I like the song "I have a cake to bake"
that you can view here.
It is from Latvia and the song makes me happy. I think this song will rank high just because it is so easy to follow but then again perhaps people think it is so simple. And personally I am sick of dramatic songs by women in long dresses with a single spotlight. This makes me happy, and is music not there to make you happy? I also love the song "Running" by Hungary
that you can hear here.
I love this song as a workout song, especially if you are....running.
But if I had to pick one song that I assume is going to win. I am going with Switzerland and Sabalter. Especially judging from his
rehearsal
or
Conchita Wurst.
Are you guys and gals going to watch Eurovision and what is your favorite? Leave it down below!