Again....
I have to excuses myself for an other earring post, somehow eBay awoke a beast inside of me. And the beast prefers to wear statement earrings. While last year I was all about the statement necklace or even an armparty I now fell prey to the colorful selection of earrings on eBay. Especially since I have been wearing my hair down in curls I decided to wear bigger earrings. For more pictures and links to these earrings, read more!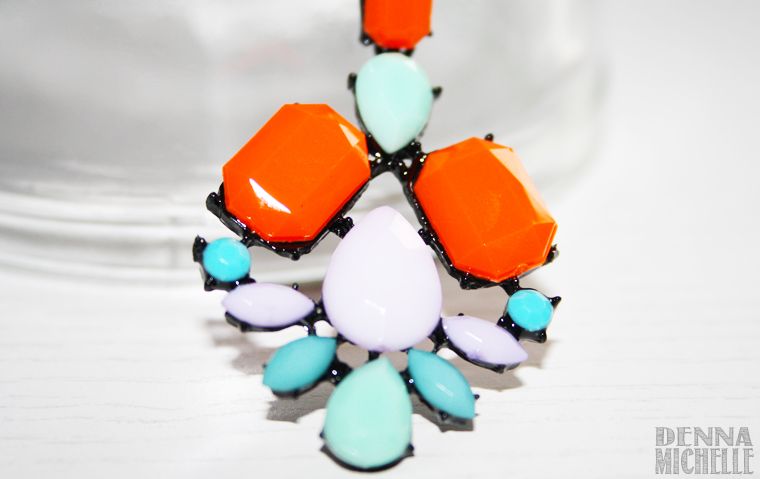 The earrings
These earrings are perhaps not my brightest pick when it comes to colors because they are mix off everything. They have teal, blue, lilac and bright orange. But somehow it works, it looks flashy but still decent. I can see myself wearing this with a primary black outfit that has a few pops of colors. Like some teal heels or a bright orange belt. I still have to mix these up with my wardrobe and find a good event to wear these. I presume that I will wear these to school with a black t-shirt and jeans.
These earrings are rather sturdy, I might have dropped them to the floor more then five times. On one occasion my cat decided to use them as a toy and shuffle it across the floor. I am happy to say that the earrings are still in one piece. The earrings are from two parts as you can see, they are not one stiff piece but the upper part is stiff and the big cluster is free to move. I really prefer that in earrings because I like them to move together with my head
does that make me strange?
But yes, they are really good quality for the price.
As I said above I got these from eBay, you can get them on eBay and they have different variations.
This one is the exact same one as you can see in this blogpost.
This one is the exact same one as you can see in this blogpost.
same style, different color.
Pink-Mint-Beige
same style, different color.
Green-Blue-Red
same style different color
. Mint-Pink-Beige
similar but different shape.
Lilac-Mint-Pink-Yellow
similar but different shape
Multicolor
I really like them but I would love to hear what you guys think about these earrings? Love them or think they are tacky? Leave it bellow in the comments!