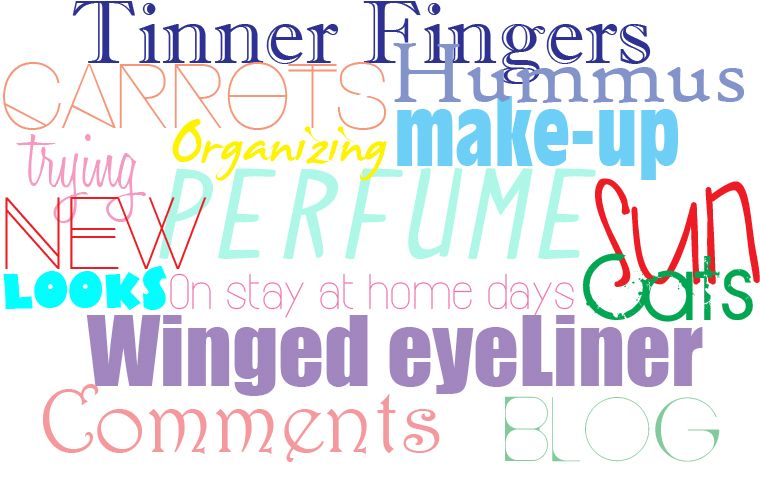 List 1
We all have little things that make your day better, something that makes you smile or just makes you feel good about yourself. So today I am going to show you guys my first happy list. A list with things that make me, happy! Inspired by the last week, the image above has all the key words and if you click read more you will get an explanation.
Perfume on stay at home days
I always where perfume when I go out but when I am home I tend to stay 'all neutral' no make-up and no perfume. But recently I decided to change that and just add a few spritzes for perfume behind my ears. I currently have
like a day in a candy shop
from essence on my desk. And the scent is amazing, it makes me feel so much nicer even when I am just in a t-shirt and yoga pants.
A things that I did today, I pulled up my hair in a bun and I sorted every piece of make-up that I own. I put the lipsticks that I want to wear this season to the front and I displayed a few of my favorite eye shadow pallets. I cleaned up all the packages and removed product from them. The one thing that I adore is switching things up, I normally go for the things in front of me. So I changed it that I had different products in front. Also it makes me take notice of what I need to buy, I found that I am missing some really useful things so I ordered those online and made a list off things that I need to buy from the store.
I have been watching the video's from
Nicole Guerriero
for a while now and she is really inspiring. She makes me want to try to do better make-up and more important to be more bold with my make-up.
Winged eyeliner is something I always do, I had to include this on my list. The best moment is when you get two wings identical. And it just takes practice do to that. I have very downward eyes and I found that with a wing my eyes look far better.
Hands down my favorite combination of the week. It taste together is amazing. Just some raw carrots dipped in hummus. Also both are very healthy, carrots explain themselves and hummus contain a lot of fibers and protein. Both making a killer combination. Also I love the idea of dipping something crunchy, it gives a chips kind of feel.
I do not get a lot of comments on blogposts, I mean I am over the moon when I get more then five. But that all makes me appreciate the people who comment more. I love it when people take their time to read my little blog and tell me they like something. It gives a very good feeling to know that your work is being seen.
Sitting outside with my cats
The sun is shining today as I am typing this and I just came back from being outside. I sat outside for a few hours and I was chilling in a chair with both of my cats next to me. I decided to set chairs outside in a 'circle' to lounge and my cats decided to sit with me. Both claiming their own chair next to me.
Actually going together with the above. The sun is amazing, hands down. I love warm weather, I love with when I get to wear sunglasses. Sun...it makes me happy!
I wrote about in on my suddenly Sunday blogpost, but I am really anticipating Eurovison. The style, the feeling, the excitement!
And this one seems a bit strange, but the last few months I seemed to hold water in my fingers causing my fingers to be fatter then normal. Or it might have been because I gained weight since I last year, but today I am happy to announce that my favorite ring fits my finger again! And not like it had to be shoved on like the last few months, but it glides on! I am even hopping that after a few months I can wear that ring on my middle finger instead of my ring finger. Also an other ring that I have not yet worn, it fits! I had a new ring that is really pretty, but it just could not fit on my finger. And today I can wear it without having to force it on.
Lots of things, leave me a comment down bellow with what makes you happy!