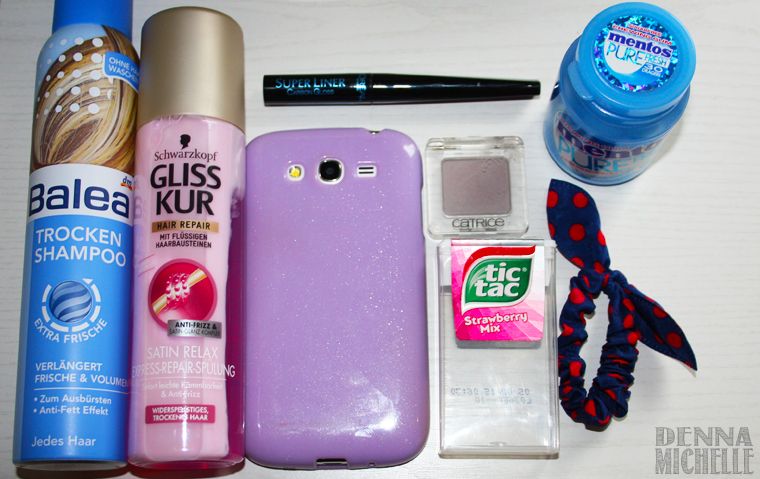 My top 8
In March I had a big collection of favorites
that you can view here.
For April I have a smaller collection of favorites. Only 8 things, but 8 lovely things. I have no idea how, but April flew by and I had to really think of what I wanted to show in my favorites and I decided to go for the things that I really used this month a lot. So read more to hear what is what and why it is my favorite!
Numbered for your pleasure
The dry shampoo is from DM's home brand, I payed 2 euro for this making it cheaper then Batiste. Batiste keeps a special place in my heart because the dry shampoo is really great, especially the scent but I can buy two cans of Balea for the same money. And while balea does not have an apealing scent to me it does what it is supposed to do. And it does a great job at making greasy hair fresh again.
Gliss Kur Satin Relax hair repair
I always the buy the newest variation of Gliss Kur because I feel all of these do a great job. Still I wanted to highlight this product. The scent is really amazing, it smells kind of floral and the scent lingers for a long time. When I washed my hair and spritzed this in afterwards I get people asking me what shampoo or perfume I use. Also this is a great alternative for girls who want to spray perfume in their hair to make it smell nice. Seeing this repairs the hair instead of drying it out like perfume would. I always buy these in Germany because they are dirty cheap at Kaufland, I payed €2.90 for this while in Holland I would pay 6/7 euro's for this. Also this makes me hair really soft.
L'Oréal Super Liner Carbon Gloss
I am an eyeliner lover, I tend to wear a winged liner on a daily bases because it looks pretty. While I normally go budget with Essence or Catrice I also like to change it up with other brands from time to time. I picked up the Super liner carbon gloss because the name attracted me. I think this works really precise and thus it is a favorite.
Samsung Galaxy Neo Grande with eBay cover
Next up is my new phone! I can not stop being excited for this, I bought this in the beginning of April and I really fell in love with it. It is a bigger phone then I had before and I have a white version what I think is super pretty. This one works really fast and takes great pictures. No need to explain why this is a favorite. Best buy of the year I would say!
As you can judge from the empty box, I finished this box and the other box that I had. I bought these strawberry tic tac and they are just to tasty. I care very little about the normal Tic Tac but these are just to tasty. If you see these I would strongly advice you try this. You will not be disappointed.
Catrice Mono eyeshadow in Grey's Philosophy
This mono eyeshadow is on my eye non stop, it is not even funny how much use this is getting. I use this over my whole lid and then I add a color to my crease. It looks simply amazing!
What can I say, this gum is fresh and nice and simply great.
And last but not least my hair scrunchies from eBay.
I wrote about them here,
and I have using them everyday since. Most of the time I use these when I get home from a long day of school, I give my hair a simple brush and then make a bun with it. They do not dent your hair and they do not have metal parts that can damage your hair. I also use these when I go to sleep, again they are soft and do not damage your hair.
So these are my favorites of April, what is your one favorite product from April. Leave it down below in the comments.