My new lipsticks!
I will bet most people do not know the brand "Baby G" as a make-up brand only as a watch brand. But yeah, I got these lipsticks on eBay for dirty cheap. The metallic pink package was calling my name and I decided to give it a try. I ordered two shades but these come in 12 colors. I decided to go for a popping pink and a more toned down coral shade. For swatches and more, click read more!
All the way from China!
As I said, I got these from eBay, where I get most of my cheap products. To be exact
from this listing here, for only $1.79
what is roughly a bit over a euro. I got number 2 and 10 but they keep going from 'sold out' to again in stock. So you have to watch out if you want the exact numbers as what I got, but to be honest the other colors are similar and also very pretty. These lipsticks where rather fast delivered, I think I got them within two weeks what is normal for China post. These came in a bubble wrap envelope and had a little cardboard package. They delivered perfectly fine. But I have to point out that the pink one had a little imperfection on the lipstick, it kind of seems like a knife hit it. But I take that for granted because they where looking great otherwise.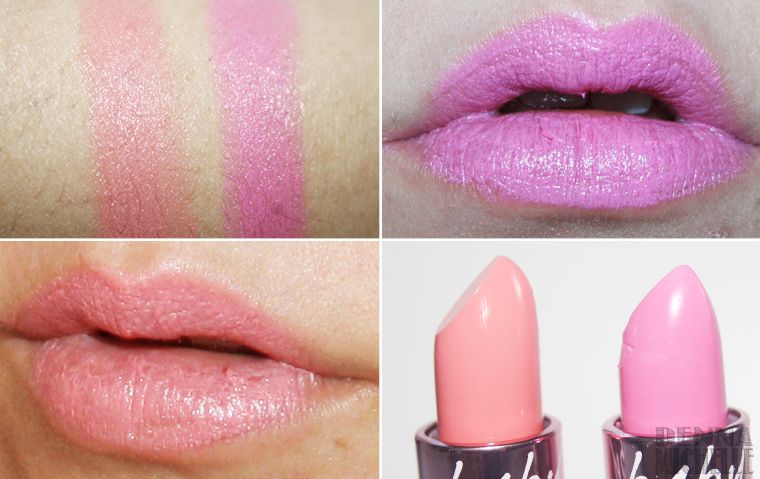 Like butter
These lipsticks really apply like heaven, or as I like to say...like butter. They are creamy and very pigmented as you can see. These feel really good on the lips, they do not dry your lips out or feel sticky. These are actually better then I expected. I also think these lipsticks are great for when you want to try out a color that is out of your comfort zone, if they are a miss you did not spend to much on it and when they are a hit you have a decent lipstick. It kind of reminds me off baby lips when wearing these, they apply the same only with more pigment. To be honest the bright pink is far to bright for my liking, paired with my white hair it gives off a barbie effect. But the coral one is stunning for everyday wear!
As I said these lipsticks are decent for the price.
I have to give them a 8/10 and I would recommend the seller I used here. Also I would love it if you left a comment down below what you think of these two shades.

Are you team coral or team bright pink?