Anti-Stress mask
What freeman says about their own mask is: Dead Sea Minerals and Sea Salts replenish and balance moisture while purging clogged pores. Lavender and Bergamot help achieve an aroma-therapeutic bliss to rinse away stress for smooth and radiant skin. Perfect for all skin types. It does sound like a good mask, read more to hear what I think about this product.
Blue power!
I bought this mask at Kruidvat for €4 but I know for the non-dutch girls you can also get the mask
here
for only $3.99 what translates to €2.85 also if you buy 4 of these tubs [or any other style from the same brand] you get a dollar discount.
The design of this brand is really lovely, you get a tube what is very clean in use. You can sparely squeeze out how much product you need. This tube has 150 ml what I personally think is a lot for facial masks, I have been using this for a while now and it still has not run out.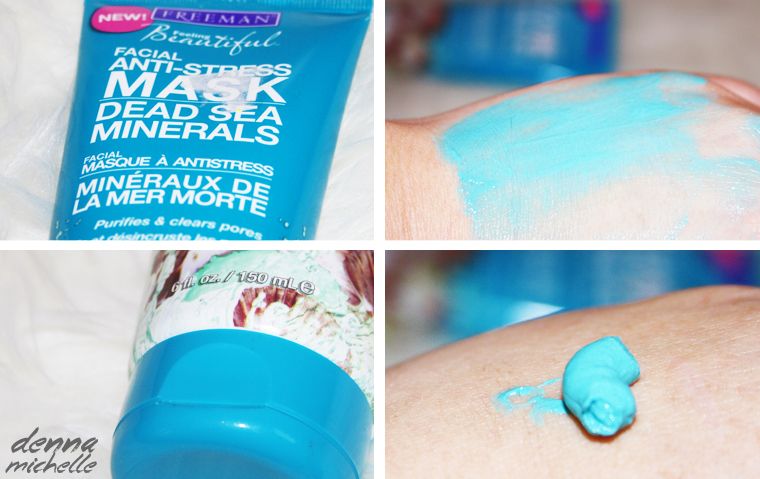 The mask itself is blue as you can see above. It reminds me of a smurf blue. And I have to admit that I always hope nobody rings my doorbell when I have this mask on my face. I can always picture a shocked mailman in front of me who thinks I might have a smurf fetish. But beside the color this is a really nice mask, it smells really good, I can not place the scent but it is really mellow and relaxing. This is a wash off mask, meaning you let it dry on your face and you notice that when it dries the shine goes away. After that you wash it off what is really easy with a washcloth and some lukewarm water.
The thing I really noticed with this mask is that it makes your face really soft and it also slightly tightens the skin. Also when you have dry skin is also is less dry after using this mask. I personally try to use this weekly because it is a really great mask. My tip is to apply this before going in the shower so you can wash it off in the shower.
How many times a week do you use a face mask, tell me in the comments!