Bye March!
With April dawning upon us I decided that I wanted to make a favorites article. Sadly enough I do not own a film camera so I did this the 'old fashion' picture style. This is not a full beauty article but it has everything from make-up to food to jewelry but also my favorite bloggers and songs of the last month. I am debating on doing this every month because I adore these kind of articles and they are really fun to make. I would really like to hear what you think, so leave a comment with what you want to see. Every month an article like this or not? But for now, do read more!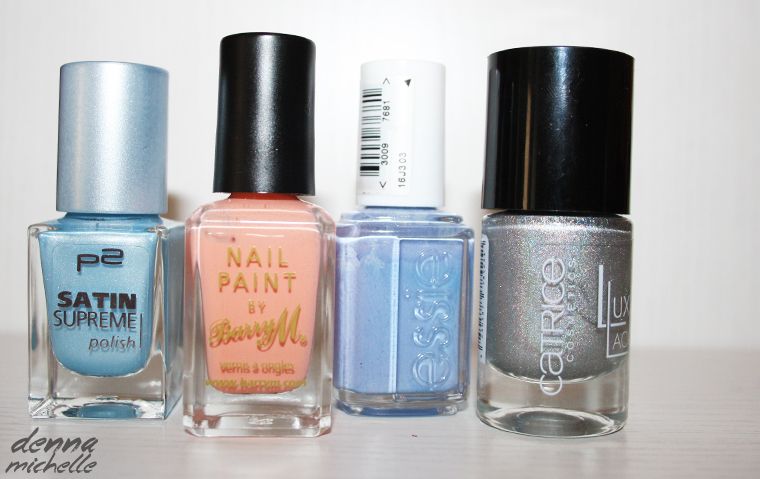 Nails
Lets start with polishes, this month I really went for pastels with a holographic polish in the mix. From left to right we have a polish by P2 called my lofty style, this is a satin supreme polish. I have not made an article with this polish yet, but I am planning it. The satin style is really trending for spring and I love how dainty it looks. Then next to it we have my only Barry M polish, Peach Melba. A light pink/ light coral polish. I tend to wear this with a shiny topcoat.
You can view the swatch here.
Next to that is my lilac polish from Essie. This is Bikini so teeny a really spring color.
you can view the swatch here.
This one is my most worn of the month together with the polish next to it. We all know that catrice brought out an amazing collection with holographic polishes. And Holo Manola is one of my favorites,
you can view the swatch here.
Make-up
My make-up had a few favorites that I kept clawing at. Starting with the lip products. I mostly used two things, the first is Dr.Fish lipbalm. I am really sad because I am nearing the end of this product and I can not order it online anymore, and there are no Dr. Fish stores close to where I live. This is really a favorite of mine, in March I had chapped lips and dry lips. But this restored my lips to their normal selves. This is the best lip repair I ever owned and I will be missing it. The next is my L'oreal lipstick from the color riche caress series. The color is Impulsive Fuchsia and this lipstick was my go to shade of the month.
You can view my review about it here.
Next up is a mascara that I grew to love, The Catrice Lashes to kill false lash fiber mascara. This is one of the few mascara's that really lengthen my stubby short lashes. Sadly no review for this mascara seeing I am horrible at mascara reviews. Next to it we have my L'oreal nude magique BB powder 5 in 1 in Light. My current go to powder, this one has a very light coverage and is perfect for my current skin condition. My skin has almost no blemishes left and this powder evens out my skintone and hides shine.
Other Beauty
Next we have my vitamin E moisture cream from the body shop. My forehead has been very dry and this cream has been a miracle to fix that. I have been scraping the bottom for every bit that is left.
You can read my review here.
And then we have an other The body shop product, my spring scent. Love ETC...I love this scent it is very light and perfect for school days.
Food
I have a few staple favorites like yogurt, fruit and dark chocolate. But I also discovered some some things that I found to love. The first thing is a herb mix from a dutch store called 'jumbo' These herbs are especially for fries and egg. And it does not disappoint, I have been sprinkling this on my fries before tossing them in the oven and it gives a really nice taste to them. I have to say that with this product I stopped using dressing with my fries. This mix is mostly, turmeric, union, paprika, coriander, mustered, white and black pepper and ginger. Big thumbs up for this product!
Next up are chickpeas, these are my new favorite snack. It does take some time to prepare but they are amazing from the oven. It kind of gives the feel of nuts.
Jewelry
Next to my everyday jewelry some new things found there way into my daily stash. And all of them are rings! Starting with the Ixxxi jewelry ring from
Time for Watching. You can check the ring out here.
I also wrote a review about the ring
here
. I have been wearing this ring a lot on days where I only wore a necklace. I tried to keep it minimal with a statement ring. And then on days where I wore a lot of jewelry I went for the three other rings. The one with the blue stone is a gift from my grannie, it was hers when she was really young. And the other two are druzy rings, you can view the article that I wrote about it
here.
That article also has links to the rings. As you might note I do not have the blue one anymore but a purple one. I traded with my mom and I went for purple.
Media
The first blog I found thanks to spam my blog article and that is
Tessa 4 Beauty
what really attracted me to her blog is that she takes amazing pictures. I really like her style.
My second media favorite is
Wide awake by Katy Perry
, I love the clip, I love the song...I just love everything about it!
And that is everything, it is a some work to collect everything but it is so much fun. Do leave a comment with your opinion about this becoming a permanent thing.