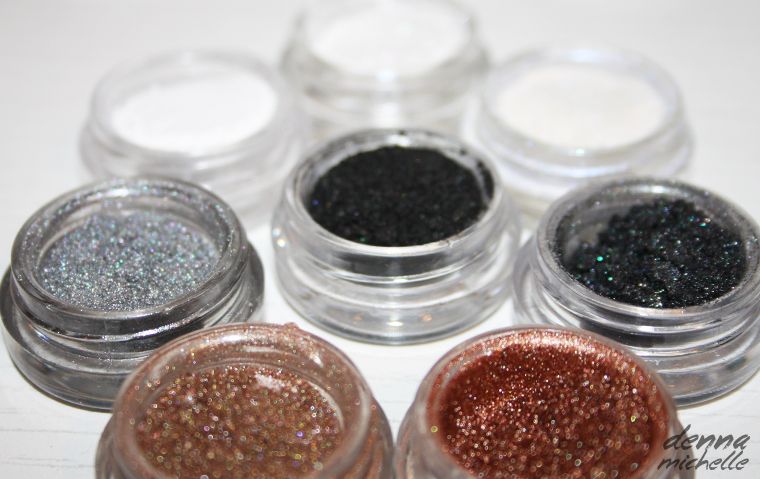 Brown, Black, Gray and White
To give a small recap of this last article I wrote about these pigments twice before, I got these from eBay, to be correct I got them from
this seller here.
I can say that the packaging is really great, it traveled from Chine to Holland without breaking a single pigment. I got 60 pigments, 30 where glitter based and 30 normal shades. But you can also get only glitters
at this listing here
. I decided to swatch these after dipping my brush in some water because the color comes out better that way and it is easier to apply. I also listed the numbers of the colors on the image.
Whites
Lets get the disappointment out of the way, look at 15 and tell me what you think. Yeah, 15 sucks a lot and currently it is laying in the garbage. There is no way to apply this wet without it going gunky and chalky. I tried to apply it dry but that way it did not show up. So I tossed it because it is not use able. But thank god we have 2 other whites. 1 is normal white, decently enough to apply and I think perfect for the inner corner of the eye. And then we have 43, the picture does not translate that well but this is pearly white. It has a slight shimmer to it in a lilac way. I can not wait to layer this on my eyelid.
Brown
The two browns in this set is eyegasmic, they are pigmented and slide on like butter. Do excuse the pink stripe next to 13, that was some pink I did not remove good enough. I think these two pigments are perfect for a daily look. I can not get over it how pigmented this is.
Gray and black
And last but not least a combination of gray, black and silver. Number 4 is a perfect silver, again perfect as accent or for a party look. The black number 12 had some fall out as you can see, I could not apply this without little flecks falling down. This it is a nice deep black perfect to smoke-out a look. And last in the bunch, 14. I am not sure how to call this color. It is black leaning towards silver. I think it is perfect!
On an endnote, these where the last of the normal shades. I still have 30 glitter left but I am not sure if you guys want to see swatches from that. Upon request I will swatch these for you guys. Also I love to hear your opinion about a look with these pigments.