In instagram pictures
So for January I snapped some pictures on my instagram
http://instagram.com/dennamichelle
I collaged them together in todays article. I do hope you enjoy and please click the read more button.
Most of my pictures are outfits and selfies. From left to right we have me at a very young age and me at my current age. I tought the contrast in hair was very nice. I do think I maintained my chubby face sadly enough. I also smoothied away, the one you see has apple, cucumber, kale and orange juice. It was not amazing but good enough to drink. And then we have an outfit on the right, it features my favorite vest and oversize flouncy top.
Then we have my nail art, a nude polish with a loaf of glitters on the tip. Next to that an other smoothie featuring a lot of red fruit and orange juice and last but not least my new pandora chain that will get its own article tomorrow.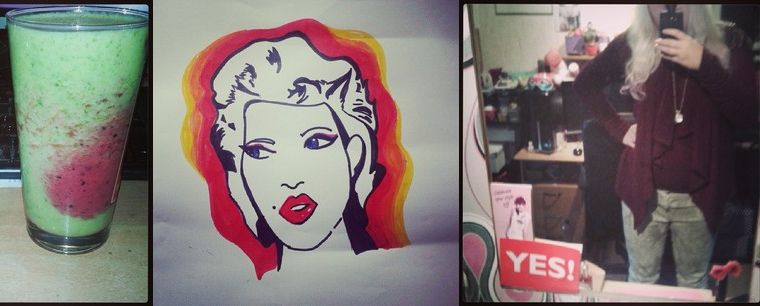 On the left we have my artistic attempt to make a duo colored smoothie. I aimed to get two colors on top of each other but somehow I only created a red spot in my green smoothie. Then we have miss Monroe, something I drew at my internship and last but not least an other outfit. Not sure if I really love this outfit, I feel like the pants are to light for winter.
The last set features a picture I posted yesterday. I was looking at my hair and debating on cutting it chin length. But I am not sure yet. Then we have an old picture of my lovely cat and last and least. I organized my lipstick stash. I try to keep them sorted by brand and going from most used to almost never used.
What was that. How was your week? Tell me in the comments! Also somehow I am obsessed with Timber by Kesha at the moment.