Pure oil
Supernaturals.nl was so kind to send me a bottle of
Argan oil
to try. They send me a 100% biologic oil that you can view
here.
I took some time testing this out because it was my first time using argan oil. I found a lot of information that I want to share with you all, but I also want to share my own experience. So do read more!
Using it on your hair
Argan oil can be used for hair and skin. For hair it has a lot of great effects.
The vitamine E in argan oil makes you hair strong, shiny and it also protects against outside conditions. Also it is perfect when you use heat, if you are like my and loves to curl your hair this can protect your hair and keep it soft and shiny. Also the oil contains omega fats, this is perfect for repairing damaged hair. It also makes your roots stronger by giving it what it needs. Also do you get frizzy hair? This is perfect to defrizz hair. So how can you use this? There is more then one way to use this product. You can use it as a mask and put it in your hair overnight and wash it in the morning. You can add a few drops to your favorite shampoo
or buy a shampoo with argan.
Or you can add it straight from the bottle into your hair and dry it in the style you want.

As a curling fanatic I tried this product in my ends before curling my end. I found that it keeps up to the expectations. My hair felt very nice after curling and did not feel oily at all. It made my hair feel healthy even after using a high setting on it. I really think this will be a nice addition to my curling routine.
This can also be used on the body, it keeps your face soft and slows down aging. It can also be used in one then more way. You can directly add a few drops to your face and it will be absorbed in 10 minutes. And if you want a full body use of this great product you can add a few drops to your bath. Also in the winter you can get dry hands, this product is perfect for softening up those winter hands.
I got a 60ml bottle that has a pump. My first tought was 'this is perfect to take with me' because it fits perfectly in my handbag. The first thing I did was pump a droplet into the palm of my hand, the smell of this product is very pleasant. It smells sort of like nuts. I also used it on my face, it takes some time to absorb. I tried this on my forehead that was very dry and flaky because of the cold weather. After using this my for head felt kind of 'oily' when I touched it but it looked normal and not flaky. So I am really happy with this product.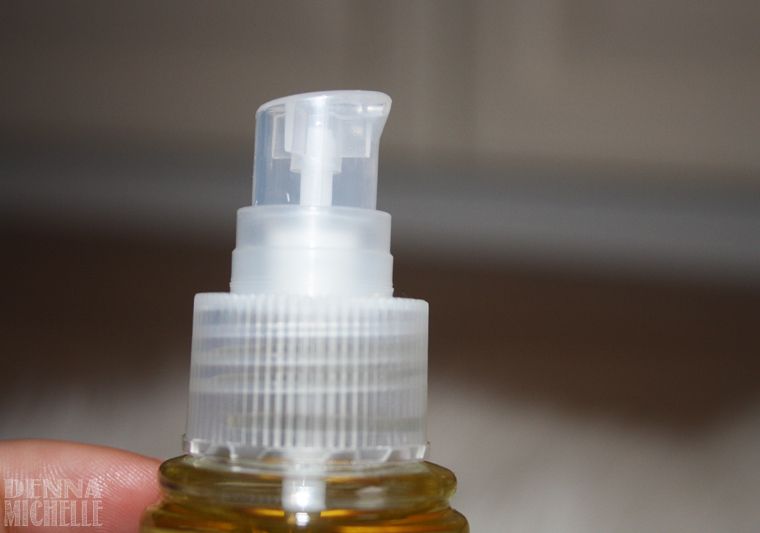 Do you want to try out the oil I have you can click
here
and it also comes in
jasmine
,
aloe vera
,
lavender
and
many more variations