Watches!
As promised I will try and post more gift idea's for Christmas. Some will be budget like today and some will be more expensive. As I said for today I am going to show you all something very lovely and budget. As you might have guessed with the sloppy collage above, the theme is going to be watches. I found a lot of nice watches that would be perfect as little gift for a friend or as stocking filler for a loved one. I think these are great for all year round, these are really inexpensive but look very nice. Also you can buy 50 watches to match every outfit you own. Do read more to see where to get these!
Geneva Jelly Watches in multi colors
for only $2.89 but also my favorite, the
mint version
for $2.87. Also if you are buying for more then one person I would advice
this listing here
where you can get 15 pieces for $38 what is a slight discount.
This is similar to the above watch but
these watches have rhinestones round the rim
It has a tad more glamour and sparkle and still is very nice priced as $2.91
These watches
feature the gemstones as the one above but this one has a silver colored face. This also comes in a large variety of colors and is $4.98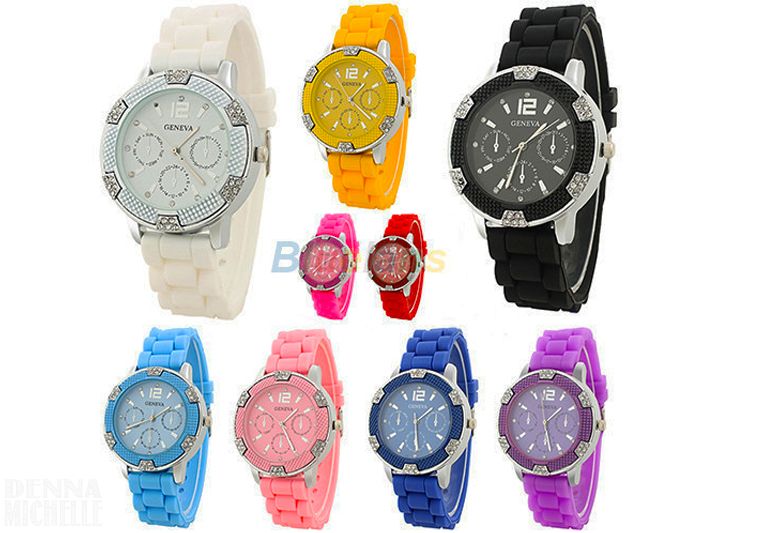 And I want to end with my favorite out of the bunch
these watches
are more sporty then the ones above and feature less gemstones but have texture and that only for $3.09
All in all I would be happy to receive any of these watches as a nice little stocking filler and I am sure many people would agree. What is your favorite color of this bunch, leave me a comment!