My current favorite
I have always been a big fan of Catrice eyeliners somehow they are always great quality for a cheap price. Recently I spotted an eyeliner that I had not tried before. The ultra fine ink eyeliner. Somehow this reminds me of the Catrice ink eyeliner that everybody adores, so I decided to pick this up in the normal version. There is also a waterproof version but I tend to stick with normal versions. So for €2.99 I picked up Black on Track or so the package tells me it is called on internet I see it being called Black is black...
What does Catrice say about their product
Accuracy is the key to success. The Ultra Fine Ink Eyeliners have an extra thin brush to easily precise lines and calligraphic work. The deep black texture dries quickly, has high coverage and long-lasting hold. Also available in a waterproof version.
What does Denna say about this product
Catrice promises some things, first thing they note is that it has an extra thin brush. I am not sure if this one is thinner then most eyeliners I tried but it is thin enough for me to put a nice thin line as you can see in the swatch below. I normally prefer a felt tipped eyeliner but I found this one easy in use. The color is really black, it has direct full coverage when applied. I used this product a few times already and what I can say about the long lasting is 'they are absolutely right!" This might be the first eyeliner that I tried that kept up a full day of school without smudging, transferring or just disappearing. Normally I have eyeliners that leave a mark on my crease because my eyes are hooded but this one stays firmly in place. I even walked in the rain with it and it stayed exactly where I put it.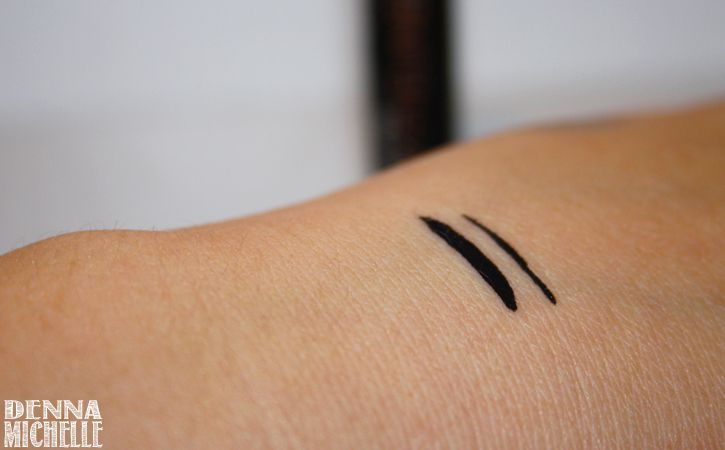 As you can see in the swatch, I tried a thick and a thin line. Both where very easy to make and showcase how dark black this is. And I also wanted to show it in a look, I went for my signature winged eyeliner. Here you can see how easy it is to tightline and how neatly you can set a winged liner.
What I used
Also a note for those who want to know what products I used. The eyeliner is the Catrice ultra black fine ink eyeliner as you might have guessed. I used
Essence stays not mather what
whipped white frosting as base and used my
88 color eye shadow pallett
for the purple eye shadow You can get the pallet
here
for $9.99. The mascara used is Catrice better then false lashes, what is a great mascara but somehow my lashes refuce to hold a curl. And I added
P2 Professional eyeliner pen
in dramatic purple under my eye.
So what do you think of the eyeliner? Also I tried a new way to put everything in pictures, I wanted something different then an all white background like I normally use. Leave me a comment with what you prefer as background.