Pretty sexy lingerie and shoes
One shoes always wear sexy underwear is something I live by. To be honest wearing pretty lingerie makes me feel good and puts a bounce in my step. And to be honest buying sexy undies also makes me feel very good. Recently I placed an order by
Shoes Cancan
and I want to tell you a bit more about the site because they have a lot of beautiful pieces. Read more to see detail pictures of the lingerie and what I think.
From corsets to shoes to sexy lingerie
ShoesCancan is one of those stores that you can brows for days and you will always find something to strike your fancy. They have a
Dutch
,
English
,
German
and
French
site and they ship to a lot of countries. I decided to order a 3 pair of undies, two thongs and one slip. I bought a stunning lace
Anais
thong and one cute yellow white one from
obsessive
and last but not least a caramel lace slip from
obsessive
. As you can see I used detail pictures to decorate this post seeing I am not comfy to show myself in underwear on my blog but I did want to show the quality and details. As I said
Shoes Cancan
sells a lot of things, my favorite being the nighties, costumes and corsets. But I want to loose some weight before being those things. But lingerie can always be bought I think.
Packaging
I received my order really fast so really props for that. It came in a white sturdy cardboard box without any print on it. I think this is a really good choice from
Shoes Cancan
because I do not want to show the whole neighborhood where I get my lingerie. It had track and trace on it, so I could follow it every step on the way. I really do not have anything negative to say. The underwear itself was packaged in boxes, the Anais came in a simple box with a model wearing the lingerie on it. I do not really care for those kind of packages but it kept my underwear safe. If you really want something special I would advice getting something from
obsessive
there lingerie is packed in such a way that it could be a gift. If any men are reading this, take notes get your girl some obsessive lingerie. It also has a model with the lingerie printed on a wrap but if you slide that off the box you get a bright red box with the brand on it. Upon opening you see white paper with red rounds printed on it, that you can flip aside to see the underwear neatly positioned on a piece cardboard. It made me all giddy and happy.
Quality
Quality wise I was really pleased with my order. It all is very sturdy and the fabric is really soft. The thing with lace is that it can get scratchy and itchy if it is cheap quality, this lingerie does not itch. The lace is really soft and it makes me really happy because I have been searching for high quality lace lingerie. Also the detail work is very nice.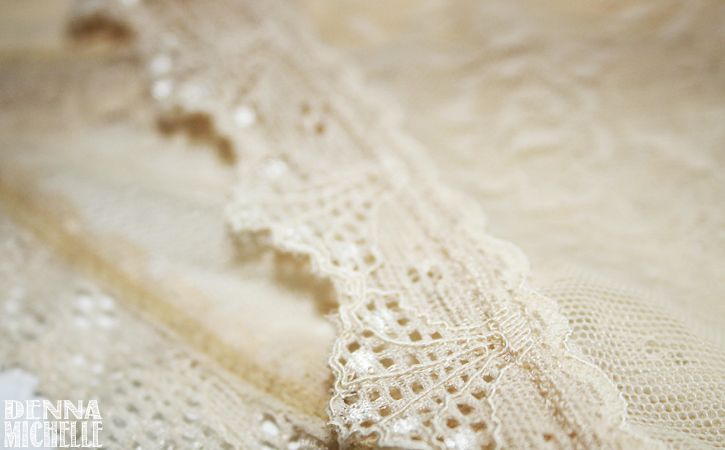 Starting with the obsessive caramel slip you can see above it is really a work of art. It is a very classic piece almost fully made of the lace. The waistband is made of a stretchy elastic and the lace polyamide. The stitching is done with the same color as the fabric making it very hard to see. it also features to dark brown ribbons on the hipbone. The lace itself has some stretch into it making it fit really good together with the stretchy waistband. Also the last thing that I want to point out is that it does not have a sewn in label, I do not know about other people but I can not stand those labels. They tend to stick up at the most horrible times and when you cut them out they still leave behind a white strip what looks not as pretty as it could.
The yellow and white thong from obsessive has to be my favorite. It is 88% polyamide and 12% spandex and is really detailed. The most prominent is the bright yellow insert in the front. It is see trough and has some dots on it above is a decent sized ribbon making it all really playful. the white fabric has rows of strips that create beautiful lines. It is all laced with floral inspired lace. Also they have a nightie from this collection but sadly enough it was sold out in my size or I would have bought that one in a heartbeat.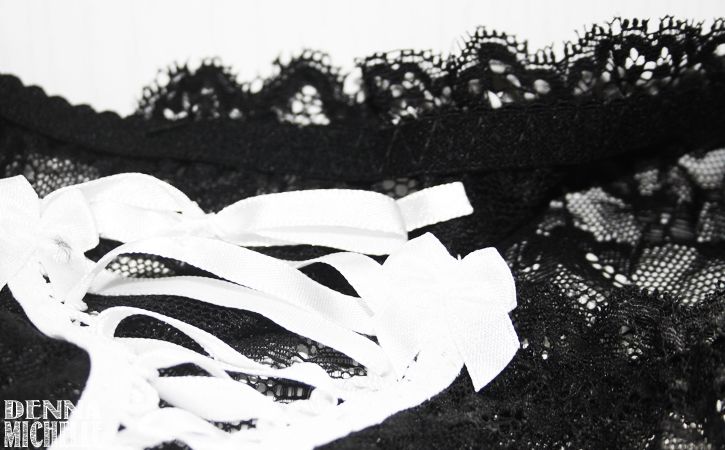 Last but not least is the Anais highwaisted lace number. This none is also 80% polyamide and 20% elastic. This one is not really something I would normally have bought but the model really sold it to me. It is highwaisted and completely lace and with a corset in the back. This oozes sexy and is really well made. The fabric features a floral pattern. And who can resist black lace underwear?
I have to conclude, shoes cancan sells some pretty sexy lingerie and shoes and I would be placing an other order in the futor because they sell a lot of pretty things.
What do you think have you heard about Shoes Cancan before?