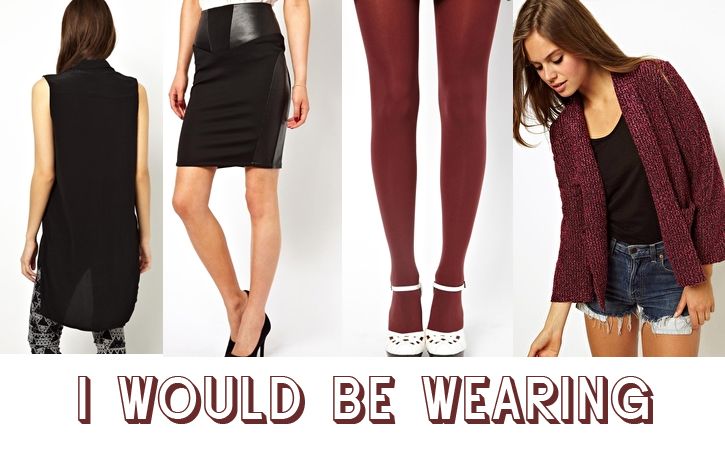 If the internet was my closet today
It has been a while since I last did a "I would be wearing" so today specially for the people who like this kind of article what I would be wearing if the internet was my closet today. I went for something fall inspired featuring items from ASOS. Everything is currently on sale and it features my currently favorite color dark red. It has a mix of shapes with a flowy top and slightly oversized vest paired with a tight skirt and a pair of tights. I would wear this outfit with black biker boots and a large black bag.
So do read more to see the links and prices of everything in the picture.
Starting with my favorite item of the bunch the
Motel Jane shirt
. It is made of a flowly fabric and features pointed a collar and two pockets on the breast. It is longer in the back and has a side split. It is something that you can dress up and down. Currently for sale €29.65 what is cheap compared to the original price of €47.14
Next to the top is a lovely skirt from
Vila
marked down from €37.74 to €18.87 it features a combination of matte fabric and leather look fabric. I think this skirt is very flattering and is the perfect length hitting just above the knee.
This
Pieces thick tights
is currently only €6.74 and was €9.43. I think you can never go wrong with tights and these would suit many outfits. While bright tights often looks clownish I think these dark red ones look very classy.
And last we have
this ASOS blazer in pink
I personally think it is a mix of pink and dark red and leaning more towards red then pink. I also believe this is not a blazer but a vest. But that is just the name asos gave to it. I think this is perfect for colder days. It has pockets, something I really adore with vests. I often fill my pockets with knickknacks and my phone so this would be perfect. It is currently for €18.87 and was €47.17 what makes this a steal! It is perfect and decent priced.
Would you wear this or do you prefer different things? Leave me a comment if you would wear one or more pieces of this.