Eyepencil & Shadow, in gorgeous gray and whipped white frosting
To be honest, I think this is my first eye shadow pencil. I am always a tad iffy about pencil shadows because I always feel like a kid with a crayong going over my eyes like I am trying to stab it out. But from the bloggerverse I heard a lot of great things about the Essence stays no mather what pencils and I decided to pick up two shades that would always be useful. A dark one and a light one.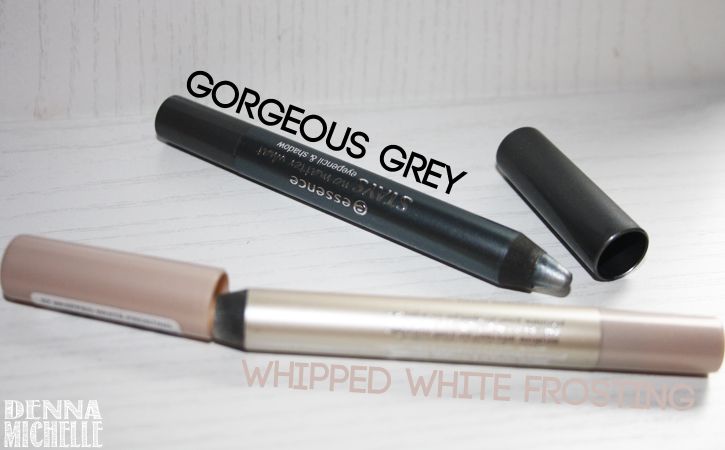 Two pencils
When I first saw these pencils I had the idea that you could twist this up because they had the plastic end thing. I twisted and twisted without it moving. Yes, it is just a design detail but has no function. But I do like the design of these pencils, they stand out in your stash and are the right size to hold nicely. Also these are said to stay for a long time, let me start with this. It works! I kept this on my hand while showering and the product did not budge, I had to really scrub to get it off. So it gets two thumbs up from me. The thing that irks me is that even when it has a good size to hold, it does not work neatly because it has a massive tip. No way that you are setting a nice small line with this, it is all or nothing.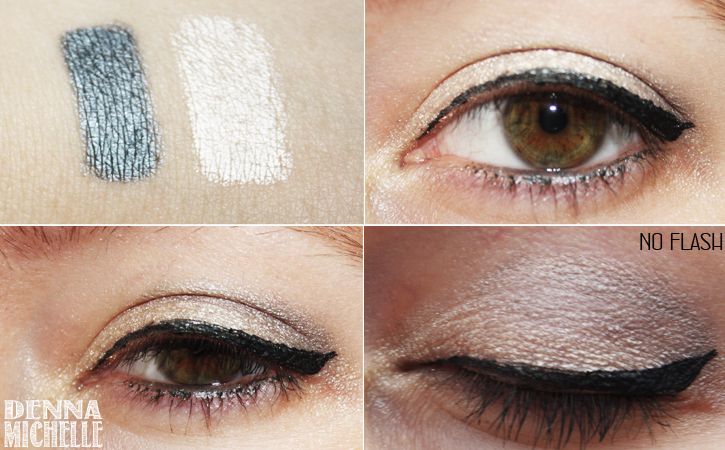 Look and swatch
As you can see in the swatch it gives off an massive amount of pigment and color. It is sort of creamy, but not as creamy as a color tattoo from maybelline. You can press lightly to get a soft amount on your eyes so it is a very versatile product. Above you can see how I wore these pencils for a few days to school. This really became a routine when I had very little time before school. I used whipped white frosting all over my lid and then accented the crease with gorgeous gray and smudged it with a round eye shadow brush. Then it was just a matter of a tiny amount of eyeliner and I was done. For this picture I also used the gray one on my waterline. But as you can see it does not look as nice on the waterline, that because the pencil is far to big. I would have loved to see this product in a small version with a precision tip. But for €2.59 it is decent.
I am happy with this product but I am not sure if I would buy other shades then these two. I would really advice the white one because it works perfect as a base and on its own. The gray one, I am not sure how much I would use it.