03 Frosted Apple & 04 Sparkle all night
Today I got an beauty review with swatches and a look. I was walking in one of my favorite discount stores and noticed a bin full of make-up products all marked down and with an extra 50% discount. To my surprise most of it where current collections and rather new stuff. I snatched up two eye shadows and two nail polishes, today I am going to show you...the eye shadows as you might have guessed.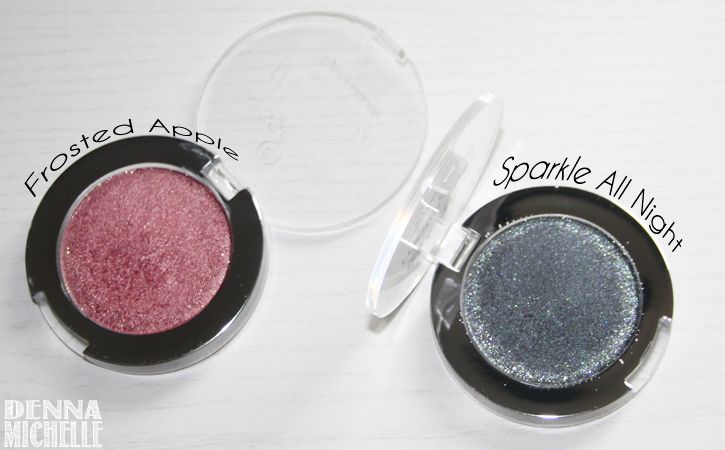 Packages
As said I dug these out of a bin and these where full of eye shadow and discount stickers. I tried to clean them up as good as I could. These two cleaned up very nice, but I decided to remove the last bit of sticky with nail polish remover and I directly wiped of the letters of the pink one. So the package is a tad 'messed up' But personally I care very little, it only looks wrong in pictures. The package is very nice, it is a complete clear single eye shadow with a mirror detail. The front features in a nice front: Essence Metal Glam eyeshadow and the back shows the name of the product. As you can see in the package the eyeshadow was already used, something I did not notice when buying this product. The overspray is slightly off and one has clear fingerprints on it. It bothers me, but not enough not to show this to you galls because it is a very nice product. And this really shows the color without overspray.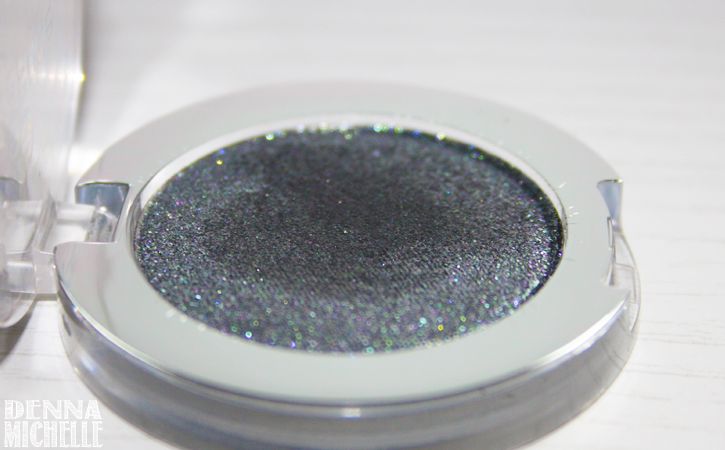 Sparkle all night
This eyeshadow accually looks blue in the package but it is grayish shade that you can build up really dark. I think this is perfect for a smokey eye. Something bold and dramatic. In the look you can see a few pictures down you can see that I used it as a accent in the crease, I will be using this one really for that because I think it is a tad to much to put all over. It is really an accent.
Frosted apple
I have no idea how they named this shade because when I think of frosted I think of blue and white shades and apples I think off red and green. This shade is more an old pink shade. It is a somehow dusty shade that looks very classy. This is perfect for many looks and will fit many occasions. I am really happy with this one.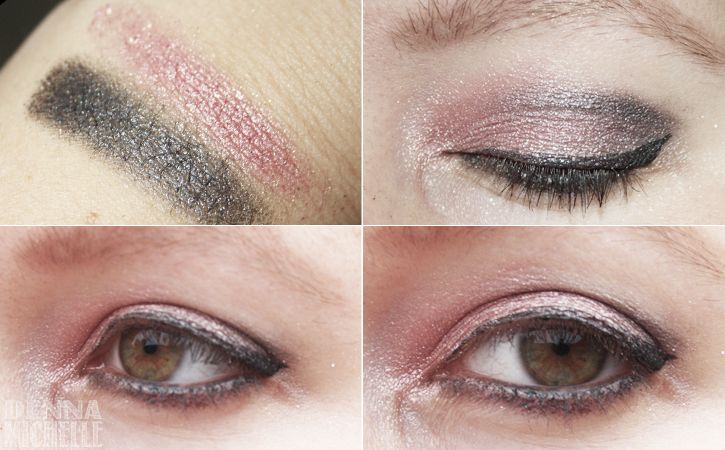 Swatch and look
I decided to create a simple look, something I would also wear to school. This is very easy to do and takes mere minutes. On the left you can see a swatch on my hand without primer, in the look I used a pencil underneath for more staying power but it gives enough pigment to wear allone. I used the frozen apple all over while I accented the crease with party all night. This gives a special effect without being overpowering.
Furthermore I used jack black from catrice as eyeliner and used a black pencil to darken my waterline. Mascara does not work on my stubby straight lashes but the mascara I used is catrice better then false lashes.
What do you think about this post, do you like the combination of look, swatch and product pictures or do you prefer only product and swatches?
Do leave me a comment with what you prefer.