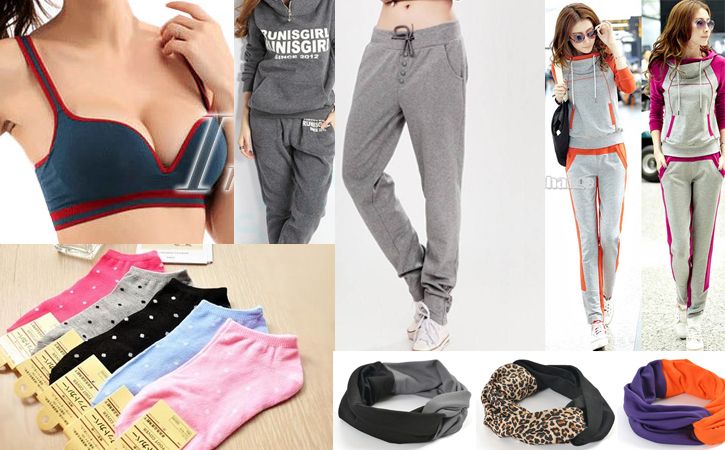 Happy Fit Friday!
Before I start this article I want to point out that my 'own' fit days are going great. Those who follow me on instagram
@DennaMichelle
know I bought a heart rate monitor that is going to help me with monitoring everything but when I finish testing my watch I will write an article about it. But to get to the point of this article and fit friday, I always love buying workout gear and clothing. Recently I drew closer to my eBay account and I did some 'sport' related shopping. Above you can see my wishlist and what I really love at the moment. To read who what and for links do read more!
Top left
a racerback sport bra
for only $6.88 it is a steal. I believe one should always wear cute underwear and this one fits the brief. I showed a darkblue and red one in the image but this one also comes in gray with black accents and inverted. A pale yellow with coral red, pink with gray accents and my favorite bright fuchsia with black. Sadly enough my cup is to big for these seeing those only go to a C cup max. But these are really cute and worth checking out.
Next to the bra is a gray
tracksuit
. It features a vest, pants and a coat. Also it comes with a free scarf.
This seller
is currently selling this set for only $25 what is a steal like most eBay pricing. It comes in a baby pink, coral red, gray and my favorite minty blue. There are a lot of sets like this on eBay
this one here
is also very cute.
Next to that is something that I really want to order. It are
track pants
with cute button design. These are simple but a lot of nice details. Like the buttons on top and at the cuffs and two dropped back pockets. These come in gray, black and red. I am debating on what color I should get, what color would you pick? Leave me a comment with what your favorite is. These pants are $9
Then we have an other tracksuit.
This set
might be my favorite thing in the bunch. For only $21 you get a sweater and pants. And this screams sporty but fashion to be. I love the clean lines and the color blocking. The stark contrast of the color against the gray is really lush. All the suits have gray and you can pick between pale pink, rose red, orange, army green and sky blue. I am debating on getting the army green or the rose red. What do you think?
These socks
are the next thing on the list. And to be honest I have a large collection on black short socks these still stood out to me. These are cute heart pattern socks and only $0.99. These come in blue, black, pink, rose red and gray. And lets be honest, who does not wear socks?
And last we have
this headband / hairband
for only $4.99. It comes in a million colors, it comes in metallic, velvet, cotton and much more. Some have a pattern and some have a ribbon. These are perfect to keep your hair out of your face when you are working out. But also these would look cute for normal wear.
What is your favorite thing here?