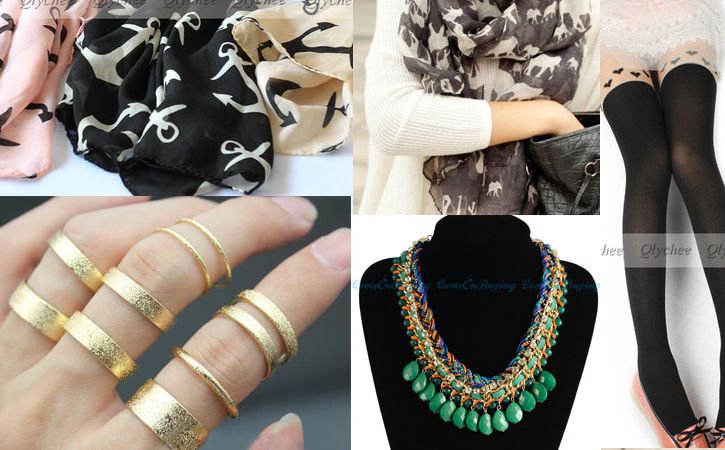 Scarfs and more
Excuses me for not putting up an article yesterday, I had school and other things that took over. But today I have an article for you! I made my current wishlist with all stuff from eBay. I think the perfect thing about eBay is that everything is really cheap but cute. After the cut you can read where to get everything and some more information.
Starting with the top left I found this amazing
anchor scarf
. The picture I picked does not do this scarf justice. It is in beige, black and light pink and looks really light and airy. The print is graphic and bold without being overpowering. Also this scarf is only $2.98 what is really really cheap!
The second scarf I listed is an
elephant print scarf
this beauty is only $6.99 and comes in many colors. I showed the black and white one but it also comes in orange, blue, coffee, gray, beige and red. I think it is really a cute scarf that looks mature enough to wear on daily bases. I prefer my scarfs like this, big and over sized and I would love to pair this scarf with a nice blazer.
11 piece ring set from eBay
, the frosting really makes this look special and amazing. I bought it in Silver myself but as you can see on the picture you can also get this in gold. I think this would look amazing for daily wear, it reminds me of the ring sets Chanel featured some time ago so really a lot of love for only $4.99
Not sure how it is in the rest of the world but when it starts to get colder I go to different colors and materials that I wear for warm weather. This g
reen statement necklace
is really cold weather wear for me. I can see this being worn with a long sleeve black top and black skinny jeans and yes, dark green boots. I think the braided parts look really playful together with the strong chain.
Last but not least we have a pair of
lovely suspender tights
these tights have the mock suspender effect and is decorated with a load of hearts. I think it is cute but still sexy and that for only $3.99
What do you think? Is there something listed that you would buy?
Denna