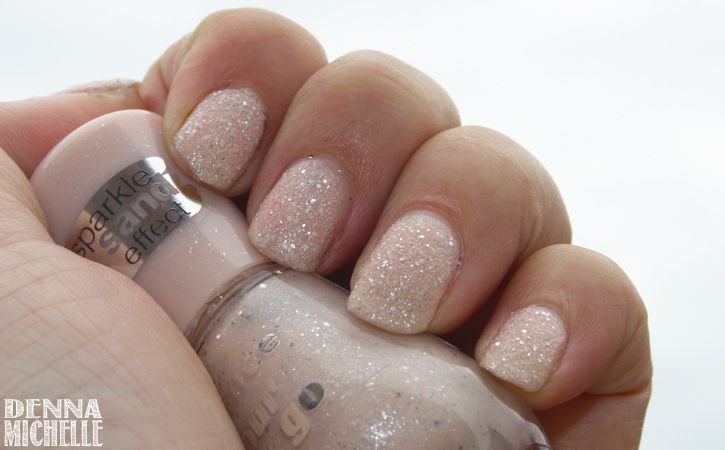 163, Hey Nude
There are times when you buy something in a "I just want to buy something" mood and then you try it and you mind is blown. Hey Nude from Essence is one of those things. I have a decent amount of sandpolishes and I am not a big fan of nude polishes because they all seem to turn out wonky on me. Why i bought Hey Nude? Perhaps it was because it was a 1+1 discount or because it says Sparkle sand effect. Or I just wanted to buy something not that expensive. All in all the events together made me buy this polish for only €1.69. Read more to see an close-up and read what I think about this.
Amazing!
This is one of those polishes that you need in your collection because it will match every occasion and will fit most people. It is a light pink/white shade with silver and gray flecks of glitter. The texture reminds me of sugar and all in all it looks really classy. In the pictures I am wearing 3 coats of this polish, with two coats you get a french manicure effect because the white of the nails shines trough. I personally would only wear this with 3 coats.
All in all Essence really surprised me and I am really happy this polish. People noticed me wearing it all wanted to feel the effect and where surpised when I told them the price of this polish.
So I would really advice this, and I am going to buy a backup for myself because I am sure I will get a lot of use out of this shade.
Denna