030 sweet darling
The P2 Volume Gloss polishes are already sometime in the collection but they never caught my eye till one day I went in search for a nice pastel purple nail polish. My eye fell on sweet darling, and how cute is the name? It is really darling. So read more for more information.
Basics
I payed €1.99 for this polish and it holds 12 ml of product what is a tad more then Catrice [10 ml] or the P2 Sandpolishes [11 ml] Personally I really like the package of this product, it is square and has a heavy feel to it. The silver cap with the logo looks really nice and the brush seems short but wide what makes it really easy in use in my books. I think they are currently renewing there collection because this shade is not on the site anymore but replaced by a different name and shade of purple.
at this link
you can see the 20 shades that are currently in the collection/new in the collection.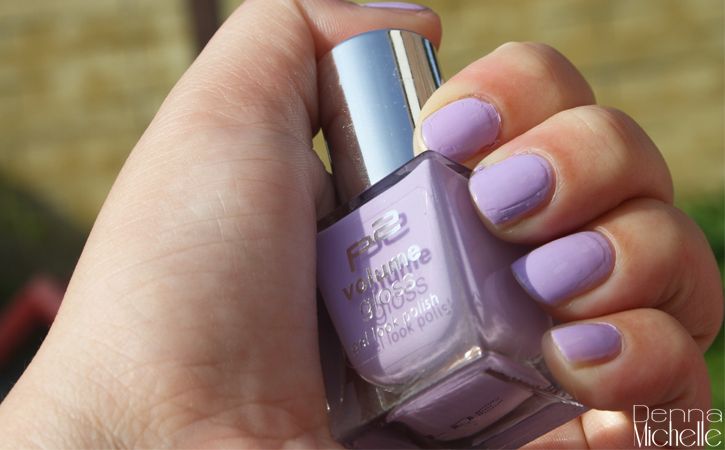 In use
I used two coats of this polish but to be honest one coat was enough because it covers great. I think pastel shades are always a hit or miss when it comes to coverage, I used to have pastel colors that first needed a white base and then 5 layers because they had a decent coverage. So I am really happy with this. Also the purple is a really good shade it really looks dainty and elegant even on my current short nails. The polish on its own has a lot of shine and really looks like gel like they promised. I did use a topcoat but it was not needed on this polish.
One thing I did not like about this is when you use two coats and you do not match it correctly with the first layer it leaves a line on your nails. You can see it at my middle finger. It is not really noticeable but still you see it up close. This is why I personally would only use one coat in the future when I am wearing this.
So I will be surely buying more of this line by P2 in the future. Do leave me a comment with what shade you want to see swatches off.
Denna.