My top three
Summer is one of those times where I go and watch movies that I really want to see because I have the time to. So I decided to list some of the movies that I really want to see and I do hope you find some inspiration and might see a movie where you think "Yeah, I want to see that!" Also it would be amazing if you left a comment with what movie is still on your 'must see list'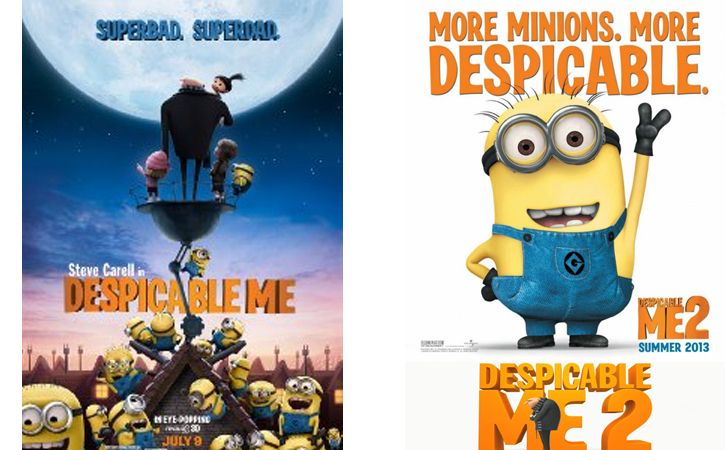 Despicable Me 1 & 2
I am waiting to be killed for not seeing these movies. These must be the most raved movies around where I live. I really need to see it because Tumblr made known to me that this is great and everybody needs to see it. So I should go and watch it somewhere this month. Below I got two discribtions what the movies are about. I got them from
imdb
1
In a happy suburban neighborhood surrounded by white picket fences with flowering rose bushes, sits a black house with a dead lawn. Unbeknownst to the neighbors, hidden beneath this home is a vast secret hideout. Surrounded by a small army of minions, we discover Gru, planning the biggest heist in the history of the world. He is going to steal the moon. (Yes, the moon!) Gru delights in all things wicked. Armed with his arsenal of shrink rays, freeze rays, and battle-ready vehicles for land and air, he vanquishes all who stand in his way. Until the day he encounters the immense will of three little orphaned girls who look at him and see something that no one else has ever seen: a potential Dad. The world's greatest villain has just met his greatest challenge: three little girls named Margo, Edith and Agnes.
2While Gru, the ex-supervillain is adjusting to family life and an attempted honest living in the jam business, a secret Arctic laboratory is stolen. The Anti-Villain League decides it needs an insider's help and recruits Gru in the investigation. Together with the eccentric AVL agent, Lucy Wilde, Gru concludes that his prime suspect is the presumed dead supervillain, El Macho, whose his teenage son is also making the moves on his eldest daughter, Margo. Seemingly blinded by his overprotectiveness of his children and his growing mutual attraction to Lucy, Gru seems on the wrong track even as his minions are being quietly kidnapped en masse for some malevolent purpose.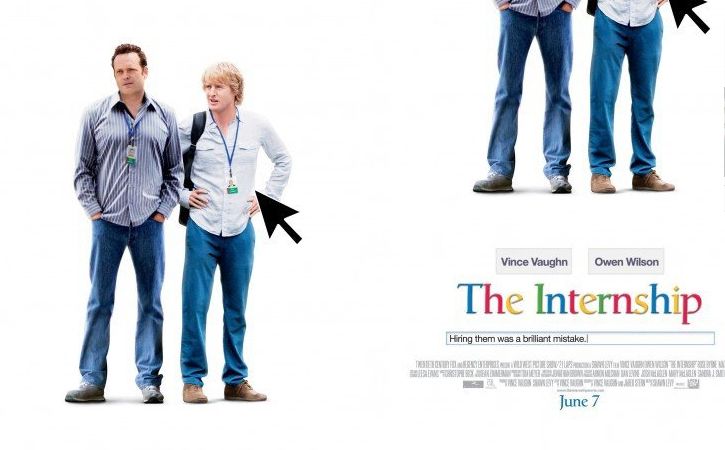 The interniship
I have seen the commercial for this movie so many times that I just need to see the movie. The trailer looks really nice and my inner nerd loves these kind of movies centered round something that I use daily [google!] Also movies that have Vince Vaughn and Owen Wilson most of the time turn out great. It seems like an airy movie that you can watch without thinking.
Twentieth Century Fox Says:
Billy (Vince Vaughn) and Nick (Owen Wilson) are salesmen whose careers have been torpedoed by the digital world. Trying to prove they are not obsolete, they defy the odds by talking their way into a coveted internship at Google, along with a battalion of brilliant college students. But, gaining entrance to this utopia is only half the battle. Now they must compete with a group of the nation's most elite, tech-savvy geniuses to prove that necessity really is the mother of re-invention.
The purge
Now I might be enthusiastic about the above movies but The Purge is T-H-E movie that I really want to see. I watched the trailer 10 times already and the idea behind this is brilliant. These are really my kind of movies, a make believe reality that is realistic but absurd at the same time.I heard mixed reviews about people who watched this. But I just need to see this movie.
About
In an America wracked by crime and overcrowded prisons, the government has sanctioned an annual 12-hour period in which any and all criminal activity-including murder-becomes legal. The police can't be called. Hospitals suspend help. It's one night when the citizenry regulates itself without thought of punishment. On this night plagued by violence and an epidemic of crime, one family wrestles with the decision of who they will become when a stranger comes knocking. When an intruder breaks into James Sandin's (Ethan Hawke) gated community during the yearly lockdown, he begins a sequence of events that threatens to tear a family apart. Now, it is up to James, his wife, Mary (Lena Headey), and their kids to make it through the night without turning into the monsters from whom they hide.
So this is my top three movies I really want to see, what is your top three?
Denna