High tolerance 0% day cream
So I like to dabble into the world of skincare and try out a lot of different things. I personally think I have a dry skin that is sensitive and this cream by Diadermine Laboratories is especially for that kind of skin. The package tells me that it is without parabens, silicone or perfume. It is said to calm down your skin, reduce itching and red coloration. So for more information and pictures do read more.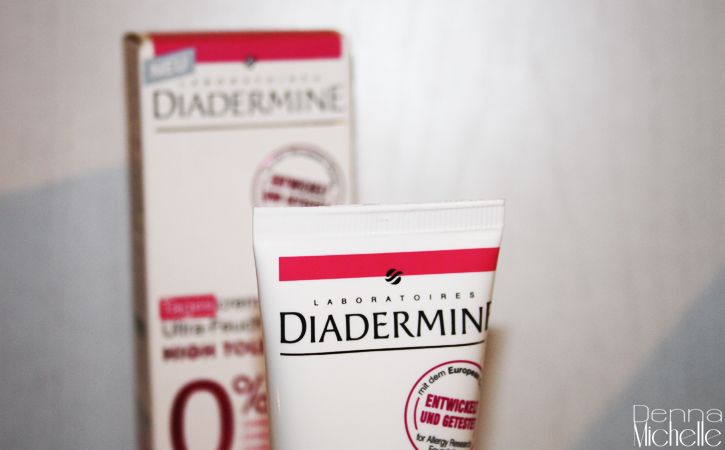 Without Parabens & Silicone?
Parabens are preservatives used in cosmetics to protect them against microbial growth, both to protect consumers and to maintain product integrity.Some say that parabens are bad for you others claim that there is nothing to worry about. I actually do not mind parabens. This product does not have them and still is good for 12 months after opening. It comes in a tube package so it is less likely to get contaminated or bacteria then a jar creme.
Silicone also has studies that say there is no risk to use them and others that say you need to go silicone free. It is said to sits on the surface of the skin and blocks moisture from escaping—but also blocks other things from going in. It is said to dry out skin so I guess that is the reason why this ultra moisturizing creme does not contain silicone. But enough with the lessons about ingredients.
What does it do?
I have been using this for a while now, especially in the summer my skin really dries out. I normally go towards nivea soft for those moments but I decided to try this creme. This product contains 50 ml and has a faint scent to it, nothing to overpowering but I expected that because it has no perfume. The creme is white and rather thick. Now for my testing, I have been using this over a month now, I do not like it as a day creme. The fact is when applied to your face it makes you really shiny and almost 'sweaty' looking. That does not take away the fact that this does wonders for my face so I found an alternative use for this. I layer this on and use it as a 'facial mask' from time to time on the zones where my skin is really dry and it works wonders. It was round 8€ what I think is a decent price for a quality product.
So as a daily creme, No. As a mask, Yes.
What is your current creme? Leave me a comment with the brand!
Denna