Volume VS Crazy volume
While digging trough my 'untouched' products in my stash I found that I had two mascaras from the I love extreme line. The black one is a older version and the pink one is newer but both are still being sold. The black one was €2.89 and the pink one was €2.79 not a big difference in price. But the question is, is there a big difference in quality. Let the battle begin! Ding....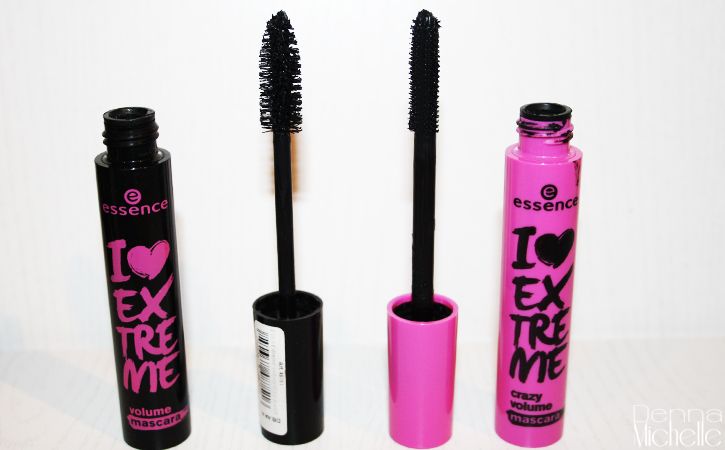 Round one!
In the left corner we have the black volume mascara, a dark clean package with a neon print and in the right corner we have a bight pink neon wonder with black letters. There is no clear winner package wise because the colors are only inverted. What marks the score as 1-1 with no clear winner. The second part of this round has a battle of the brushes. There is a clear difference when we look at those brushes, while the left one is big and round the right one is thin and lean. While I can not pick a winner on looks allone I tried these out and there was a clear winner here. 1-2 for the right side. The big chunky brush on the left was horrible in use, there was mascara flying everywhere on my eyelid and the pink one was more easy to apply in a clean manner. Lets to to round two, the visual round.
Round two
Before starting this round I have to say, I really tried my best to get good pictures my eyes are small and my lashes are short. So I am pretty sure others will have a better, bigger or more pretty effect. But to the battle. The black one clearly has more mascara on the eylid while the pink one has a little product on it. Also as we look at the blac one it clumped my lashes together while the pink one left them separated making the score. 1-3 for pink. I have no idea what is wrong with my lashes but none of these left my lashes curled. So no points for that.
All in all I am not blown away by these mascaras, if I had to advice one of these I would say "go for pink!" but both are not that great. I am still looking for a holy grail mascara and these are not it.
Denna