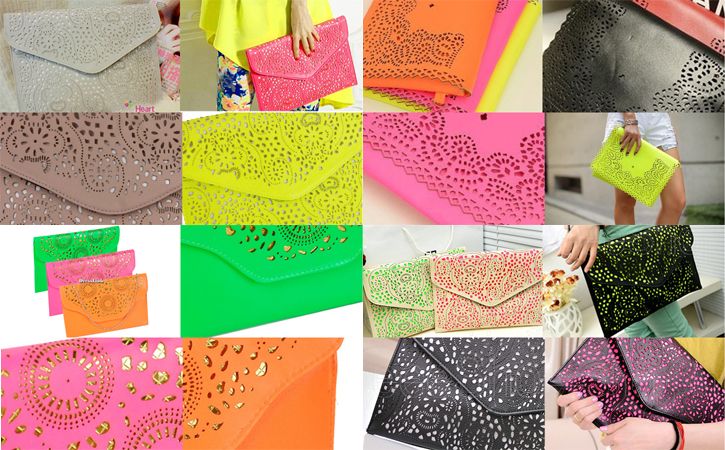 Laser Cut clutches
I tend to make it my quest to find pretty, unique and cheap things on eBay. I set a small goal 'like laser cut clutches in neon' and then I just go wild and end up with 30 listings from cheap to expensive and with many different designs. Then I cut it down to my favorites and collage them for you to enjoy, so if you want to see what lovely clutches I found do read more.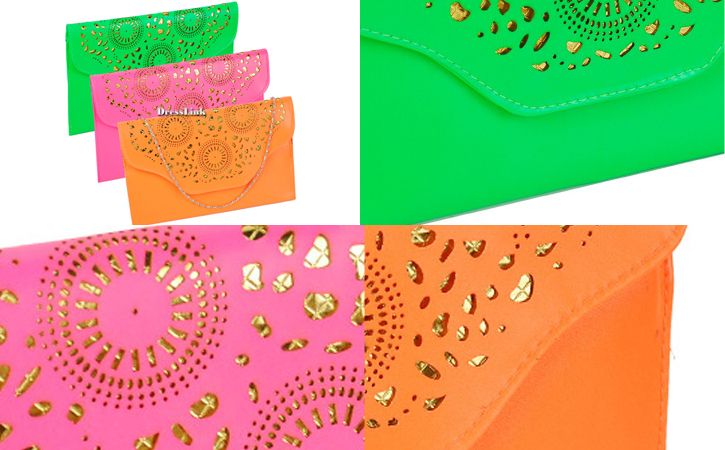 Allover Neon
This listing
has one of my favorites from this article. The three above bags are really lovely and are only $8.43 free shipping at
this listing here.
It has to be round €6.50 a little less if I am correct. This bag hits all my current favorites trend-wise. It is neon and it has cut outs, and talking about these cut outs they are pretty amazing. The design is really pretty and the detail behind it is amazing. As you can see at the above image it comes in three colors, my least favorite is the neon green. I am somewhat on the fence about the orange, I love it but then again orange does not suit me. And my favorite has to be the pink one, or as the listing calls it "
Watermelon red
" Also this clutch can be worn on a chain over the shoulder. I think it is really pretty!
Two colors, very neon and nude/black
I am a big fan of
these bags
because they mix the classy nude or black with a pop of neon. There are 5 combinations to pick from, 2 with the nude shade and 3 with black.
This listing
has the cheapest I found of these bags, they are $15.99 what is round 12 euro what is also dirty cheap for a nice and unique bag. It has a removable strap and a zippered pocket inside. My favorites have to be the neon and nude variations because they are less bold and I could see many occasions to wear these to.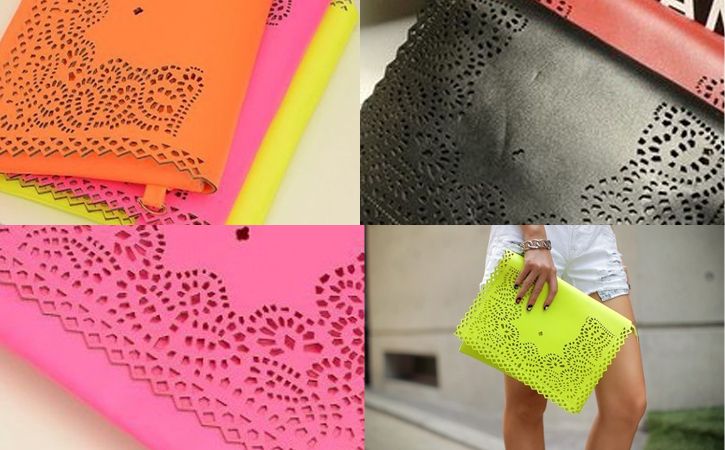 Lace sides
These bags are really love because they have a lace like side, it seems almost like the hem of a nice summer dress.
This listing
sells 5 colors of this bag, three times neon and two times a more dark color. These come pink, yellow, orange, black and dark red. Of
these bags
my favorite color has to be the black one because it really suits the design but I am also attracted to the yellow one. These are currently $15.25 what is less then €12.00
Neon or Nude
These bags
are very similar to the two color bags above looking at the cut out design. But these only feature one color. While I set out to find neon clutches I actually prefer the gray and beige version of these because the neon are to busy for my taste. I do think they are lovely but I like the others more. These are $22.09 what makes me prefer to buy a cheaper one above but still it is a lovely clutch and I wanted to include it because I know we all prefer different things.
During the article I mentioned my favorites, what is your favorite bag? Or do you prefer something that is not laser cut of bright?
Denna