Light in purple
To be honest I already wrote 3 times about the color tattoo. But recently I got a new one and I loved the color so much that I wanted to share it with you all as some sort of tip. The information provided in this article is the same as in the other articles because the pricing and quality is all the same. So read more for 85- Light in purple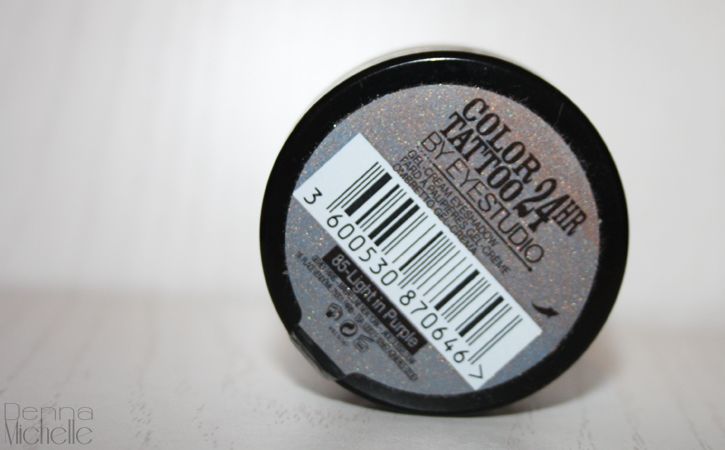 The basics
24 hour color tattoo
has been in stores for a while now So the first thing I do is check the packaging. I have to admit that I am a big fan of great packages and think that is 50% of why I should buy a product. The package is half glass and half plastic, I do like the glass part because it makes it feel more expensive and I prefer a heavier product. The thing that surprised me was that the text is a simple clear sticker with lettering, I admit simple thing that I am tough that it was engraved into the glass. It looks really good on any vanity table and I can see how collecting these can be fun. And it surely is because this is number 4 and I am planning to buy many more.

So this shade is called Light in purple, number 85. The jar states that it is a gel-cream eyeshadow and the name implies that it should stay for 24 hours. Also price wise this one is very good, in Holland we have to pay 10 euro, for German girls round 6 euro and Americans pay a cheap 4.99 dollar. So those prices are very different but still very much worth it, it cheap enough for the quality you get.


The color
Light in purple is a very unique shade, I would actually call this more blue or silver then purple. It is almost holographic without being to 'costume' In certain lights it has a lilac shine, it surely is a nice and unique color. I have no idea how to describe this but it looks really nice worn. I prefer to wear this on its own with a black or brown winged eyeliner to parties or events. I think it is a bit to special for daily wear but great for days when you want to pop.
So I adore this shade, would you wear this? Below I listed the other colors that I own.
Denna