Mixed article, checklist and suggestions to get online
So I was making a list for myself as a reminder what I needed to toss into my schoolbag for next school year. I need to buy some things and I need to find some things. When I wrote down the list I tought "Perhaps some people would also like to use a list like this" So with a bit of photoshop I made a checklist for you all to buy, I also would advice using some bags to store things in, so I found some cute ones on eBay for you all. So read more for the checklist and my suggestions.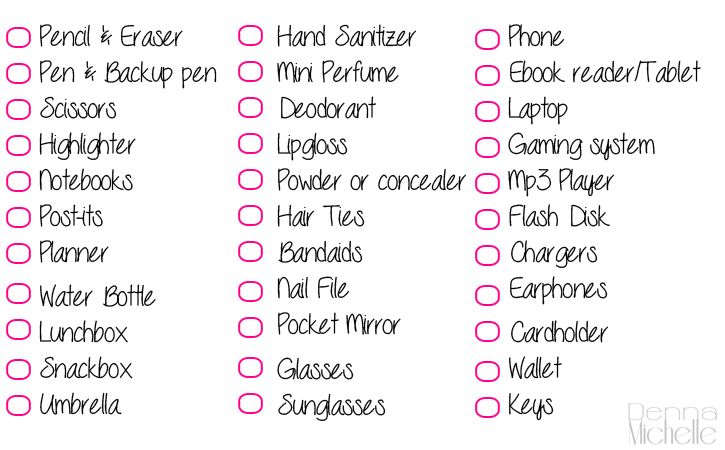 My list
So this is my list, I do not need a lot but these are my essencials. From ellectronics till stationary. I am not sure if I should show you all a 'what is in my bag' perhaps when I return from vacation I will take some pictures. I personally like to separte everything in little bags so things would not get scratched or float round my bag. For those little bags and pouches I personally prefer eBay.
Pencil cases
This metallic pencil case
is perhaps a tad busy for my taste but still very adorable and in four colors. This little pencil bag is $3.99 what I think is really decent priced for such a cute pencil case. It also looks really sturdy.
I personally prefer this
navy inspired case
that also could work as make-up case. This one comes in 3 colors I really like the light blue one. It is only $2.99 what really temps me to buy all shades. But then again what should I do with so many bags?
These four
are perhaps the cheapest I found that still where cute. They are only $1.59 It comes in four animals and colors with my favorite being the red one with a bunny.
And the last case I found where these
adorable floral version
s for $2.49. I think the added lace is a really nice touch and the price is perfect for this.
Bags for multimedia
I actually have
this little bag
myself, I am planning an article for it and editing the pictures as I type.
Well not as I type, perhaps after this.
I bought it
from this seller
for $2.95 in bright blue. I can say this, the quality is great! It comes in 8 colors and is perfect for MP3 players, little knickknacks and electronics.
This bag
is also one that I own, only my color is somehow not sold on eBay. I got a mint one with a mint pocket, the ones they show has mint with a tan pocket. In the above picture I showed the red and black version what is currently my favorite next to the black and red version. I currently use it to safeguard my 3DS but it is also perfect for a tablet, E-book reader or mini laptop.
And no fear, I do not own this. I just like it.
This last one is a zippered laptop bag.
It has a really nice quilted chanel bag feeling. It looks really pretty and I think this one offers a lot of protection for your expensive electronics.
So what is your back to school must have?
Denna