Welcome online shop
Let me start with the fact that I never went to a primark because they are all to far away. I adore the collections they have and the prices of the clothing. My life long dream is when I loose weight, that I can go wild at primark and buy everything I adore. Now to make things easy Asos is currently selling stuff from primark, the collection is rather small at the moment but I think this is a trail run and when things start selling they are also going to sell more. Now read more for my favorite pieces!
Aztec
I love this Aztec trend and I really want it to stay. I love the colorful prints for summer and paired with dresses these are items that I really would love to wear. This
bodycon dress
is stunning yet very unforgiving for my figure, still I wanted to share this because I know a lot of girls can rock this and it is perfect for a nice summer day. Also did I mention it is only 13 euro? The one next to it is my favorite, a
skaterstyle dress
with cutouts and a bright bold pattern. I am really debating to get this one, it is only 19.88 euro for a great original dress.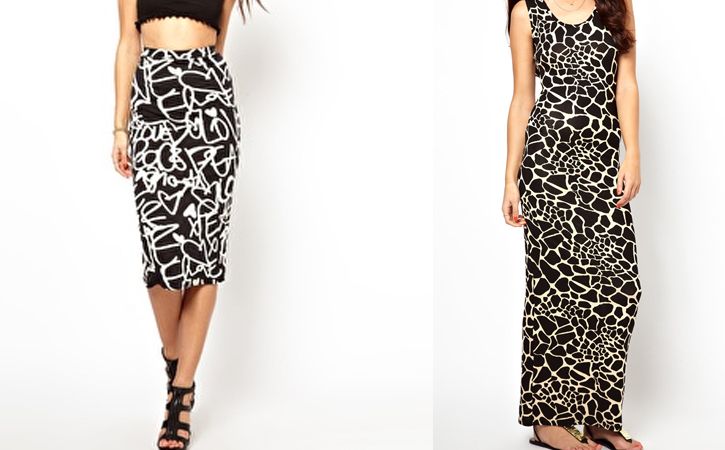 Busy patterns
Maxi Dresses,
I mention my love for maxi dresses a lot. I think they are great and fit many people.
This one
from primark is not a favorite but cute enough to mention. I am not a fan of giraffe print but I do love the style of this dress. This one is a mere 13.26.
The skirt
next to it is also a bit 50/50 for me, I love the shape and length but the print is not hitting a home-run for me also I am not sure if I would pay 10.60 euro for it.
Basic lounge
I think primark is perfect for 'homewear' when I have a day at home I wear sweats and a t-shirt and I must admit that this
Jogging pant
is perfect for me. It looks comfy and it is 'cute' enough to wear when opening the door to get a package from the mailman. This
Dungaree
is something I would wear round the house but also on a hot summer day. I love the stripes because it is very flattering also it looks very casual. For 18.56 euro it is a steal!
Cute dresses
Who says that prom dresses have to cost a lot of money? I would rock this
dress
if I had a prom, actually I would rock this to parties and my own birthday. I love the print and the cutouts. It is really a nice dress for a primark price. Next to it a
dress
that is not really party but more 'day wear' The one thing that stood out to me is the bright emerald color, it is a lovely dress to wear in the summer but also when it is colder with a pair of tights and a blazer.
What is your favorite piece from this online collection?
Denna