Amazing foils
Let me start with the fact that this is my first experience with nail foils, I think they are great but I still need some practice to apply them. I will include a video on how to apply them and also what happens when you are like me and do not follow instructions. So read more to see how I made these Holo Nails!
Where?
I got my nail foil kit at
Kkcenterhk
a great site to get these things, they have a big stock and great shipping. It does take some time to get from Hong Kong to the Netherlands but I received my package every time and always with great packaging. The nail foil I used in the pictures is
this one with stripes
But they have a big selection of foils that you can see
here
. My set included one jar with nail foil and the glue, you get a royal amount of product, the glue is rather big and you need very little off it and the foil is 150 centimeter so even when you do a full hand you still need very little of this.
How?
KKCenterHK is so great to include a video that shows you how to apply this foil. That you can view bellow
It does take some practice to apply but it is worth it in the end. As you can see you first need to apply a base color and then add the glue in a thin layer, then you press on the foil and voila!
My experience
So when I got
this set
I got super excited and who would not, the holo effect is amazing. I decided to test it out on my left hand and I did not follow the instructions. I added a thick layer of glue and waited and waited for it to dry. The end result you can see below, half assed foils and nail polish that went off instead. So you really need to add a thin layer to avoid these results. So following the instructions is very imporant.
How to get this good result?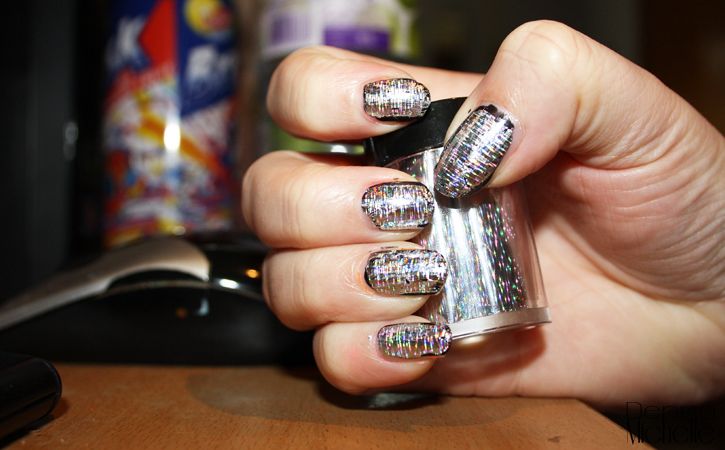 Of coarse, I did have a good effect with these foils as you could have seen in the first picture. I decided to use my right hand and try a thin layer. The foils went on rather easy and with a bit of rubbing I got a great effect. I did get some cracks because I did not got the foil on smooth. But when I got the hang of it it went easier. It takes some work because you need to make sure you get glue everywhere you want foil. I went for full nails for a BANG effect, but you can also add an accent foil nail to your nails as you can see below.
I personally do not think my camera captures the full wow effect of these foils because when the sun hits them they are amazing and every color of the rainbow.
All in all these foils are cheap and great and you can view the whole collection here
What do you think?
Denna