So recently the summer is starting and the weather is getting hot. I decided to open my virtual closet of make believe otherwise known as the internet. If I could wear anything today what would I be wearing? I went for a fun outfit with colors and unique pieces. Read more to see everything and ofcoarse where you can get it.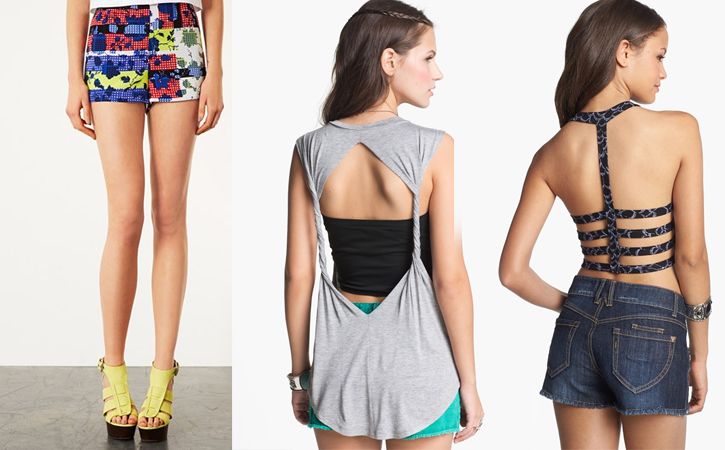 These
amazing colored printed railroad shorts
from TopShop. These are a bit more then I would normally pay for shorts, €47.86. But then again these shorts are amazing and most important original. They are high on my wishlist and I love them to dead, I am sure I want atleast two pair of printed pattern shorts this summer so the search for a budget version will start!
For my outfit I went for the gray version of the
Twist back muscle tank
from Project social T. This simple but unique top is €19.15 and comes in four colors. My favorite color is the
Jade Green
one but sadly enough that one clashes with the outfit. I am also debating if this twisted back could be a DIY in the future.
Because the Muscle tank has an open back I prefer to have a nice undergarment or bralette. I picked this
Cage Bralette
in black with silver details. The back is stunning and perfect. I am pretty sure H&M has a cheaper version of this one in a purple and pink shade but for €19.15 this bralette is a steal!
Starting with shoes, because I wanted a casual outfit I went for flats. These
Paint the town red
flats are a great shade of mint with some cute black cats. These are very decent priced for €47.82. They also come in orange with a bike but nothing beats a black cat to be honest. But I might be bias.
For jewelry I went for gold. I lately have been into gold and paired with my love for stones I found
these three rings from south stone
. They are only €9.57 for three rings and they remind me of tiger eye, jade and amethyst. The last being one of my favorite stones.
I also added an other ring, because a girl can not wear to many rings.
This small stone midi ring
has a nice light blue mint stone and the ring itself has a twisted detail that I really like. Only €4.75 and it also comes in black.
Last but not least I decided to go for a necklace because the shirt had no print.
This Aztec necklace from Nordstrom
has two chain. One smaller one and one with bolls that hold an arrow. The arrow reminds me of house of Harlow and I admit that is what attracted me to this necklace. For €22.34 it is a great necklace.
So what do you think, what pieces do you love and what pieces would you rather not be wearing?
Denna