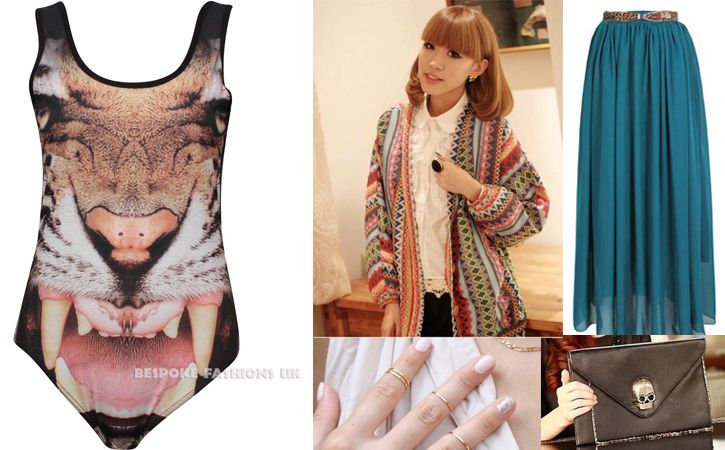 Unleash your beast
Today I have some gems for you all, I actually feel very southern when I say "you all" but that aside. I found an amazing bodysuit that I really needed to share with everybody. Also I found some other 'normal' pieces that you can wear daily. Like an amazing maxi skirt that comes in a rainbow of colors and an aztec vest that adds flair to a simple outfit. Also these cute dainty rings that I ordered myself. So do read more to see where you can buy these things.
Let me start with my favorite eBay item at the moment
this amazing tiger bodysuit
. I have no idea where and when I should wear this but I think this would be amazing to wear. I mean how fierce is
this bodysuit
.
Then we have a pretty
cardigan/vest
it is only $15.22 and it has the aztec print that I love so much. I think it is perfect for a colder day and will suit many people. I am still debating on getting this one for myself.
I picked one skirt for the collage but the seller has a few
different colors
There are many people selling this one that can be found by using the words
Maxi skirt
or of coarse clicking one of my links will also take you to the skirt.
The
ring set
that you see I already bought for myself. Normally I would not buy these kind of thin rings but they look so dainty and cute, I just had to buy them. Also I bought these in gold but the
listing
also features silver
Last but not least, an
amazing clutch!
I recently bough a clutch very similar to this one but with a tiger head. Sadly enough I could not find a dupe of that clutch online but I did find this skull version.
At this listing
they have more colors, is a color sold out you can also check
this listing
seeing they sell out rather quick it seems.